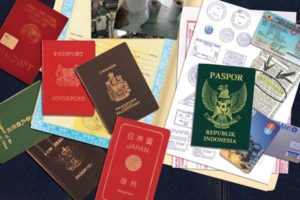 A 40-year old staff of the Lagos State University (LASU), Ojo, Sanni Sabiu has told the Apapa Magistrate Court an agonising story of how he lost his pregnant wife after he became financially incapacitated and unable to pay her medical bills having been duped by an alleged visa-forging crook, Adeniyi Adebayo Daniel, 39.
A suspected serial document forger, Daniel was first arraigned in court in August 2013 on a two-count charge of obtaining in pretence the sum of N1.2 million and stealing the said sum from Sabiu and his brother, Sanni Moruf for the procurement of Qatar visas for both men between August 2012 and April 2013.
The case between the Commissioner of Police and Adeniyi Adebayoo Daniel started three years ago. Narrating his ordeal of anger, Sabiu said after he was duped of N1.2 million by Daniel, he was rendered penniless since 2013 and could not afford to provide the medical needs of his pregnant wife which led to her death.
Sabiu said while alive, his wife was always accompanying him to court, adding that it was too painful to realise that he lost his wife because of some criminals that had defrauded him of his hard earned income.
Angry Sabiu was however reprimanded and cautioned by the defence counsel after he vowed that he would go the extra mile to seek justice in the presence of the magistrate, Mrs Osho Adebiyi.
During cross-examination by the defence counsel, S.S Tijani, Sabiu narrated how it was discovered that the visa prepared by Adeniyi Adebayo Daniel was fake.
He said, "We first gave Daniel N700,000 to commence the visa processing and procurement. At a point, he came back to tell us that we should give him an additional N500,000 to complete the procurement.
"During that time we had issues with him because we could not trust him again after he had taken so much time without result. We even took him to the police station to make an undertaking that he was not duping us. But on getting to the airport after he had eventually given us the visa, the details were checked on the computer, and the result shown on the screen was that the visa was not found. It was at that moment that we reported him at the Area 'E' Police Command, Festac.
Daniel is also standing various trials for forging other documents such as WAEC, NECO and university certificates. In some of the many cases, he was accused of forging certificates of various tertiary institutions across the country.
Daniel, who hails from Osun State, attended Ajangbadi High School in Lagos and obtained only a secondary school certificate before setting up a tutorial centre, at Isashi, in Ojo area of Lagos, where he prepares students for West African Examinations Council (WAEC) supervised exams, National Examinations Council (NECO) exams; Joint Admission and Matriculations Board examinations, among others.
His cases for certificate forgeries and visa forgery were adjourned to January 30 and January 31, 2017 respectively.