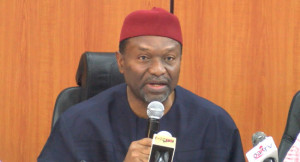 The Federal Government said low oil production due to pipeline vandalism and militancy activities as well as low global crude oil prices affected the implementation of the 2016 budget.
The Minister of Budget and National Planning, Senator Udo Udoma, said this on Monday in Abuja while presenting an overview of the 2017 budget proposal tagged "Budget of Recovery and Growth''.
Udoma said that the 2016 budget, which was predicated on oil production of 2.2 million barrels per day, selling at 38 dollars per barrel at an exchange rate of N197 to a dollar, fell short of all revenue projections.
He said that although at some point within the year, global crude oil prices exceeded government's projection, the insistent disruption of crude oil production by militants impacted negatively on output.
He said, "The Federal Government's 2016 revenues have been low because of the sharp decline in oil production.
"In particular, the revenue target for January to September 2016 was N2.8tn as against N2.2tn realised during the period.
"The projected independent revenue was N1.1tn as against N0.2tn realised during the period.
"The projected revenue for Custom was N0.3tn as against N0.2tn realised.
"The projected non-oil tax receipts for the first to third quarter of 2016 is N0.8tn and only N0.5tn was realised."
He said that in spite of this, the Federal Government was able to achieve a capital expenditure of N753.6bn as at October 2016.
The Ministry of Power, Works and Housing Power got the largest chunk of N209bn while the Petroleum Ministry got the least amount of N2bn.
The Defence Ministry received N69bn; Transport, N30bn; Agriculture N29bn and Water Resources got N25bn.
The Interior Ministry got N21bn, Ministry of Health received N18bn, Education, N16.7bn while the Ministry of Niger Delta got N8bn.
The Ministries of Science and Technology got N6.6bn while Mines and Steel got N3bn.