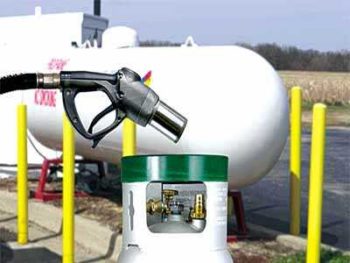 The Liquefied Petroleum Gas (LPG), market is expected to hit an additional storage capacity of about 12,000 metric tonnes, says the president, Nigeria Liquefied Petroleum Gas Association (NLPGA), Dayo Adeshina.
Adeshina said this development will bring about better opportunities for Nigerians against recent scarcity which led to hike in the prices of LPG across the country.
He stated: "Lagos is the major terminal for gas. But others are coming on stream which are Calabar and Port-Harcourt. It should be ready quarter two this year.
There is another proposed one by Techno Oil and that will take another 18 months before it comes on stream.
"Calabar is over 3000 tonnes, Port-Harcourt is between 8000 and 9000 tones, almost the same capacity as the NAVGAS which storage capacity could only accommodate 8,000 tonnes."
He stated further: ''The current storage capacity is not where we want to be, but we will make a significant impact with the establishment.
We are trying to see that the product can come from different areas and not just Lagos."
He, however, frowned at the delay during discharge at Ports which, according to him, led to scarcity of the product.
He stated: "By the time the vessels return to the Pipelines and Products Marketing Company Limited, PPMC, terminal, vessels conveying petrol would have berthed. And because Premium Motor Spirit takes precedence over other products, the vessel would have to return to Bonny to load more products, in order not to incur demurrage charges. Unfortunately, in the process of this time lag, prices go up".