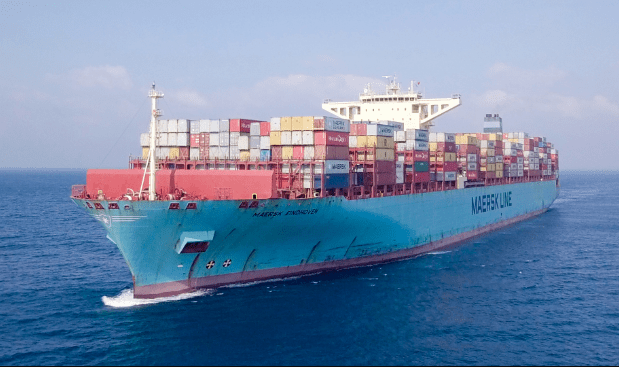 The Maersk Eindhoven has departed Japan for the U.S. West Coast after operations to remove damaged and dislodged containers after its cargo loss last month.
Maersk Eindhoven lost some 260 containers overboard after a brief loss of propulsion in heavy seas on February 17 approximately 45 nautical miles off northern Japan.
In an update on Monday, Maersk said the ship was just about ready to set sail from APM Terminals Yakohama after cargo operations and vessel repairs had progressed smoothly. AIS ship tracking data shows the departed port earlier today and it is now 'underway using engine' at a little over 20 knots. The ship is bound for its original destination at APM Terminals Pier 400 Los Angeles with an estimated arrival of March 13.
"The vessel will sail as fast as it is considered safe under the prevailing weather conditions in order to get the vessel to LA as soon as possible," Maersk said in an update today.
"At the destination port, efforts continue to try and advance her in the Los Angeles anchorage waiting line so she can get to berth quicker. We expect to have more details on her estimated arrival time at the APM Terminals Pier 400 Los Angeles berth once she nears port and we see the actual waiting line," today's update said.
Maersk Eindhoven is a 13,100 TEU containership sailing under the Danish flag. The vessel is operated on Maersk's weekly TP6 Asia/US West coast service.
Maersk said previously that an initial analysis of the cargo loss incident showed that low engine oil pressure triggered a safety feature that shut down the ship's main engine, resulting in a 3-4 minute loss of propulsion that led to cargo loss.
The incident happened about a month after the Maersk Essen, a similar-in-size ship operating on the same route, lost approximately 750 containers overboard in heavy seas on January 16, 2021.