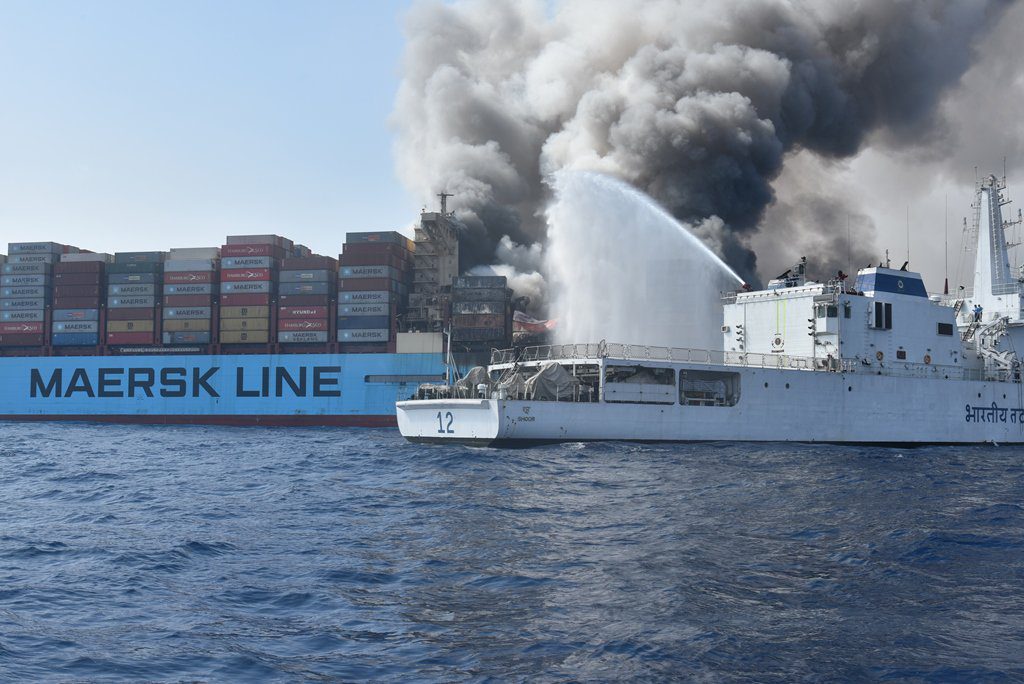 The hotspots on board Maersk Line's ultra large containership Maersk Honam have been almost extinguished, according to the latest update from Mediterranean Shipping Company (MSC).
It took almost three weeks for the hotspots to be put out since the vessel reached anchorage outside the Jebel Ali Port (UAE), with several hotspots remaining on board.
"The vessel is now tentatively expected to berth by week 22, starting on May 22, when the discharging operations will commence. If everything proceeds as planned, the operations are estimated to last 4 to 7 days," the update reads.
The berthing and discharging operations of the fire-ravaged boxship are expected to result in high extraordinary costs, according to Maersk Line.
The company has declared General Average, under which all parties with a financial interest in the voyage are to proportionally share the losses resulting from the incident.
"We respectfully remind you that it is imperative to ensure that your insurers submit the GA and Salvage security bonds to allow release.
"Salvors have confirmed this morning (May 15) their demand for salvage security in height of 42.5 pct. An additional 11.5 pct is required by Richard Hogg Lindley ("RHL") as GA deposit. The submission of the GA and Salvage securities is a prerequisite for the cargo to be released for on-carriage from Jebel Ali," MSC said.
Following completion of the discharging operations, the containers identified as potentially damaged will undergo an inspection at Jebel Ali and relevant customers will be invited to be represented at a joint inspection.
Containers that are identified as sound will be loaded at first opportunity to reach their final destination. 
In the event of a damage identified after delivery, joint inspections can be arranged, MSC added.
Maersk Honam was hit by a serious fire on March 6 while sailing around 900 nautical miles southeast of Salalah, Oman.
The fire claimed the lives of five crew members. 
Copyright Ships & Ports Ltd. Permission to use quotations from this article is granted subject to appropriate credit given to www.shipsandports.com.ng as the source.