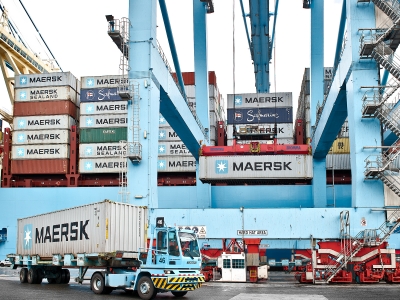 Maersk Nigeria Limited on Monday decried its suspension by the Nigerian Ports Authority (NPA) over a purported lack of empty containers holding bay, describing NPA's action as "misguiding". 
NPA had on Friday suspended the shipping services of Maersk Line, Cosco Shipping, APS and Lansal shipping companies for ten days allegedly for not having functional holding bays for their empty containers. 
But in an advisory issued by Maersk to its customers on Monday, the company said it has four functional holding bays in Lagos with a storage capacity of 8,150 TEUs. 
"It is misguiding for the Nigerian Ports Authority (NPA) to suspend Maersk Nigeria Limited for failing to acquire and operate holding bays for empty containers as Maersk Nigeria Limited operates 4 holding bays within the Lagos environ with a storage capacity of 8,150 TEUs which is more than 50% of the discharge average. Maersk Nigeria Limited have complied fully with this directive and have followed the Call-Up protocol for use of the holding bays stipulated by the Nigerian Ports Authority.
"Nigeria as an import dependent nation will certainly see imported containers discharged in the country in volumes and in line with the tenet of international trade. With limited infrastructure and other alternatives for evacuation of imports, return of empties, and return of full exports, it is challenging for these containers to be adequately handled which results in the congestion of the access roads," the company said.
Maersk also disclosed that it was in dialogue and consultation with relevant authorities and "we expect the steps we are taking together with Nigerian Ports Authority (NPA), will reassure them of our storage capacity".
It added, "As an active and abiding corporate organization, Maersk Nigeria Limited will continue to work in full cooperation with all relevant authorities in Nigeria and to offer sustainable services and operations to its valued customers."