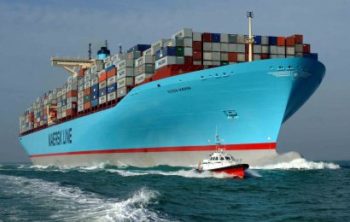 As part of the Maersk's "new direction" set out by CEO Soren Skou on Tuesday, the relationship between Maersk Line and APM Terminals is set to change.
The two businesses have operated at arms length for the last decade with APM Terminals separated from Maersk Line at the beginning of 2007 with a separate headquarters in The Hague, Netherlands.
"In the past we have operated the transhipment hubs with Maersk being a customer and APMT being a supplier. In the future, in fact we have already started to operate our transhipment hubs as one company, very similar to how UPS or FedEx operates their big global distribution centres," Skou said at Maersk's capital markets day.
Some 43% of Maersk Line's container moves are transhipment and 48% of these are made at facilities run by APM Terminals. The largest hub for Maersk is the Port of Tanjung Pelepas in Malaysia, part of APM Terminals, while its second largest is Singapore run by third party PSA. The next five largest hubs are Alegciras, Salalah, Rotterdam, Tangier and Port Said.
In total, 32% of all Maersk's container moves are with APM Terminals plans to drive more of its own volumes through the group's terminals.
"We're going to drive an increased utilization of our terminals by moving more Maersk Line and Maersk Line VSA (vessel sharing agreements) partners volumes on the APMT network," Skou said. From 2018 these volumes will be boosted by the acquisition of Hamburg Sud.
"It's a huge fixed cost base that we've built up and we could do more to fill it in coming years," he added.
He noted that the company seeing overcapacity in the container terminals business and this was starting to impact APM Terminals. EBIT per TEU has dropped to $22 for 2016 year-to-date compared to $31 in 2015 and $29 in 2014.
Following a period of heavy investments in APM Terminals over the last decade, this growth will slow with the focus on its existing terminal network, and it will not be making any more greenfield investments.
Copyright Ships & Ports Ltd. Permission to use quotations from this article is granted subject to appropriate credit given to www.shipsandports.com.ng as the source.