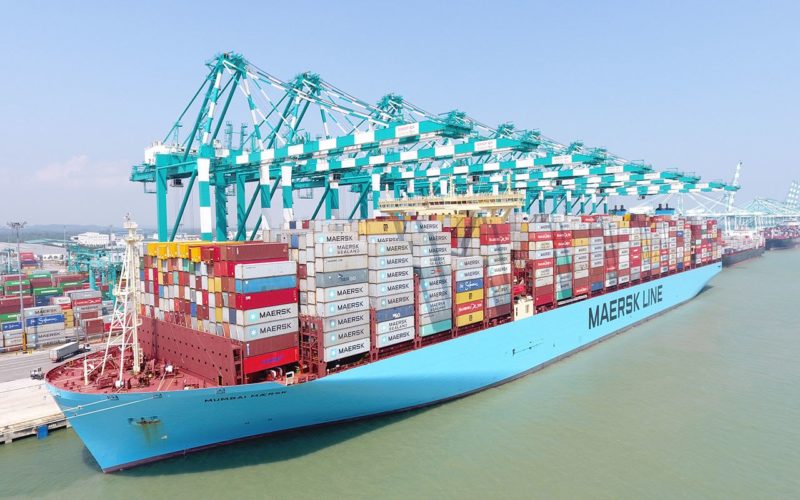 Lingering congestion in container shipping is continuing to buoy high freight rates, leading the world's number two ocean carrier to upgrade its earnings forecast once again.
A.P. Møller – Mærsk A/S (Maersk) said Tuesday it now expects earnings before interest, taxes, depreciation, and amortization (EBITDA) of $37 billion in 2022, a 23% increase from the $30 billion forecast it had called for previously.
The upward revision comes on the heels of Hapag-Lloyd, the world's fifth largest ocean carrier, raising its 2022 outlook by as much as 30% as profits keep rolling in. 
Echoing Hapag-Lloyd's guidance, Maersk said its new guidance reflects lingering congestion in global supply chain that has "continued longer than initially anticipated," leading to higher freight rates that have offset flat or slightly lower trade volumes.
Maersk's guidance assumes a gradual normalisation in its "Ocean" shipping busines taking place in the fourth quarter of 2022.
The update from Maersk comes ahead of it releasing its second quarter results on Wednesday. Providing a preview, Maersk said its second quarter financial performance came in ahead of expectations with a revenue of $21.7 billion (this compares to $14.2 billion in Q2 2021), an underlying EBITDA of $10.3 billion and an underlying EBIT of $8.9 billion. 
"The strong result is driven by the continuation of the exceptional market situation within Ocean," Maersk said.
Looking again at full year performance, Maersk now expects free cash flow (FCF) to be above $24 billion, up from more than $19 billion previously, while the cumulative capex guidance for 2022-23 remains unchanged of $9 billion to $10 billion.
This all comes as spot rates in container shipping have fallen for 22 consecutive weeks, according to Drewry's World Container Index, and are now down more than 25% year-over-year. Long-term container freight rates may have also peaked, according to Oslo-based freight benchmarking firm Xeneta, but they remain more than double last year's level and nearly triple from pre-pandemic.
Despite the freight rate news, Drewry's Container Forecaster report published in June said that even though container shipping's pandemic-fueled boom cycle has "undoubtedly" taken a turn in recent months, carriers are proving they can uphold profits even with lower volumes and softening rates. That's because carriers still hold the "ace card", and that is lingering port congeston that has been the main driver of sky-rocketing rates. Take away port congestion and the market would likely see a "very swift normalisation", Drewry pointed out.
With coast to coast backups in the United States, congestion North Europe, labor issues, and China's zero-Covid policy, it's really anyone's guess when things will return to normal in market. Until then, global supply chain issues will continue to add to inflationary pressure to the economy.
As ocean carriers are just starting to report second quarter results, it seems plausible that they could even surpass the "mind-bending" $59 billion in profits they earned in the first quarter of the year.
Copyright Ships & Ports Ltd. Permission to use quotations from this article is granted subject to appropriate credit given to www.shipsandports.com.ng as the source.