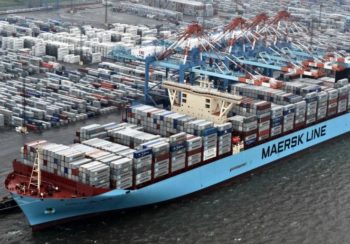 By Jite Eriabie 
Danish conglomerate A.P. Moller – Maersk (Maersk Group) has signed a deal to sell its Maersk Tankers unit to a subsidiary of A.P. Moller Holding for $1.17 billion in cash.
A.P. Moller Holding, the controlling shareholder of Maersk Group, is a wholly-owned fund established by the founder of A.P. Moller-Maersk. It will take ownership of Maersk Tankers through its subsidiary APMH Invest A/S.
A.P. Moller Holding announced it plans to establish an ownership consortium for the fleet with Japan's Mitsui & Co. and other potential partners, in which A.P. Moller Holding will be the majority shareholder.
Maersk Group said the proceeds of the transaction will be used to reduce debt. Closing of the transaction planned October 2017 and it is not subject to merger control approvals.
Maersk Tankers has been a part of A.P. Moller – Maersk since 1928 and is one of the largest product tanker companies in the world, employing 3,100 people. The fleet consists of 161 product tanker vessels, of which 80 are owned. The fleet is diversified across four segements; Intermediate, Handy, Medium Range and Long Range 2.
"Maersk Tankers has served A.P. Moller – Maersk well for almost a century, building an industry leading position within the product tanker market. As former CEO of Maersk Tankers for more than 10 years, I recognise the importance of having an owner with a long-term market view in this industry, and this is why I am pleased that Maersk Tankers can continue to build on its strong name and position under A.P. Moller Holding," says Søren Skou, CEO of A.P. Moller – Maersk.
The sale of Maersk Tankers is the second deal as part of Maersk's strategy to split the company among its core transportation and logistics services and its oil and oil related (energy) businesses. In August, Maersk agreed to sell its Maersk Oil unit to French oil company Total for a total consideration of $7.45 billion.
"Having determined the future ownership of Maersk Tankers, we have taken yet an important step in our strategy to free up resources and focus future growth in A.P. Moller – Maersk on container shipping, ports and logistics," said Skou.
Under the deal, A.P. Moller Holding will take over Maersk Tankers entire organization, portfolio and any obligations, as well as assume all outstanding capital commitments of Maersk Tankers' fleet renewal program.
"In determining the best future ownership for Maersk Tankers, it has been imperative for us to assure a financially solid owner with industry insight and a long-term view on the inherent cyclical nature of the tanker industry. This will secure that Maersk Tankers can continue to take advantage of market opportunities, as well as uphold the capabilities and the organisation on which Maersk Tankers global leading market position is built," says Claus V. Hemmingsen, Vice CEO of A.P. Moller – Maersk and CEO of the Energy division.
Maersk's plans for the remaining companies under the Energy division, Maersk Drilling and Maersk Supply Service, remain to be defined before the end of 2018, the company said.  
Copyright Ships & Ports Ltd. Permission to use quotations from this article is granted subject to appropriate credit given to www.shipsandports.com.ng as the source.