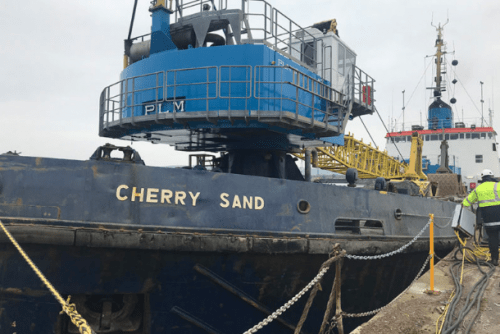 The UK Marine Investigation Branch (MAIB) is reminding older mariners that they are at heightened risk of slip and fall accidents following the death of a 72-year-old dredger captain in Rosyth, Scotland.
The MAIB made the reminder in its report on its investigation into a 28 February 2019 incident during which the master of the dredger Cherry Sand was crushed between the vessel and a jetty after he fell while attempting to step ashore to assist berthing the vessel.
The investigation revealed that the master had climbed over Cherry Sand's bulwark and on to the rubbing band in preparation to step ashore as part of a self-mooring operation. As the chief officer was still manoeuvring the dredger towards the berth, the master took a single step towards the quayside, but his foot missed the quay and he fell between the quay wall and the vessel.
The master was crushed by the moving dredger before slipping into the water.
The MAIB noted that of the occupational accidents it has investigated over the past 5 years, more than 40% of the mariners who lost their lives were over 50 years old. Over the same period, the four persons who lost their lives while attempting to step on or off during mooring operations were between the age of 58 and 72.
HSE guidance warns that older workers may experience more slips, trips and falls than younger workers, and recovery following an injury may take longer.
The MAIB has made a recommendation to the Maritime and Coastguard Agency (2020/118) to amend the Code of Safe Working Practices for Seafarers to provide guidance on mooring and unmooring operations, and when it is permissible for vessels to self-moor.
Another recommendation has also been made to Associated British Ports (2020/119) aimed at ensuring a common approach to safety and the application of company procedures across the UK Dredging fleet.