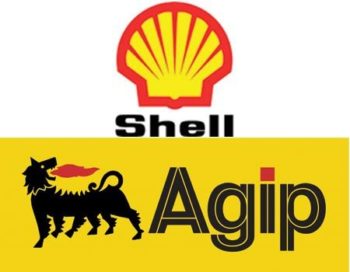 The Abuja Division of the Federal High Court will on March 13 decide on an application for the retraction of a January 26 order withdrawing control of an oil block, OPL 245, from two multinational oil companies.
The oil firms, Shell and Eni, through their Nigerian subsidiaries, challenged the propriety of the Nigerian government withdrawing the oil block from them, pending the determination of a criminal matter.
The order was sought ex-Parte by the Economic and Financial Crimes Commission, EFCC, which said it was investigating the corruption surrounding the block.
OPL245 is considered one of Nigeria's richest oil blocks and estimated to contain over 9 billion barrels of crude.
Apart from Shell and Eni, who want the block back, Malabu, the firm to which the block was originally assigned by the Nigerian government in 1998 under controversial circumstances, also sought to retake possession of the block.
At the opening g of session on Monday, the counsel representing Malabu, Abdullahi Haruna, asked the court to accept a fresh application, seeking the variation of the court order made on January 26.
The presiding judge, John Tsoho, however refused the application, stressing that the court was not initially aware of it and could not just suspend other matters to officially recognize the fresh application.
"It is not just bringing up the application that matters but what could be achieved by bringing up the material. An application seeking variation of the order cannot be properly entertained. I hold that Malabu's application for variation of the court order shall stand in abeyance," Tsoho said.
When the court resumed hearing on the application by Shell and Eni, the counsel representing Eni, Babatunde Fagbohunlu, questioned the action of the EFCC on the forfeiture order.
He added that the manner of application that preceded the January 26 order offends his clients right to fair hearing and should therefore not be allowed.
He further said the Supreme Court had in previous rulings ordered that an ex-parte motion cannot be given in such a manner as to remain ex-parte till the end of the case.
The counsel representing Shell, Ajayi Oyinsola, also asked the court to dismiss the order on the grounds that the EFCC act only allows it to carry out such an action on movable assets.
He therefore called for the dismissal for the January 26 court order.
The counsel representing the EFCC, Johnson Ojogbane, however said the argument of counsel that the application should have been filed by the EFCC and not its chairman, does not hold water. He contended that the commission's chairman acted in his capacity as a representative of the entire commission and therefore such an argument should not be considered.
After hearing all the arguments, the court adjourned its ruling till March 13.
Copyright Ships & Ports Ltd. Permission to use quotations from this article is granted subject to appropriate credit given to www.shipsandports.com.ng as the source.