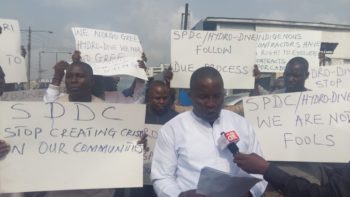 Odimodi and its federated communities in Burutu Local Government Area (LGA) of Delta State on Wednesday protested purported award of a contract for the repairs of export pipelines by Shell Petroleum Development Company of Nigeria Limited (SPDC) to Hydro-Dive Nigeria Limited, without the involvement of the communities.
Staging a peaceful protest at the Apapa headquarters of Hydro-Dive Nigeria Limited in Lagos, the communities accused Shell and Hydro-Dive of militarising the communities in order to forcefully move equipment for the execution of the contract to the area.
They further stated that the oil exploration activities of SPDC has polluted their land and water, deprived them of their means of livelihood, as they could no longer farm or fish.
The leader of Odimodi Community, Harry Angeyama said, "Over the years, as a community, SPDC has constantly deprived qualified indigenous contractors the opportunity of handling projects of reasonable consideration, such as the project which is the subject-matter of this protest and limiting us to cutting of grasses and cleaning of toilets, while juicy jobs are given to their family members, friends, surrogates and themselves vide crony companies."
Also speaking, the public relations officer of Odimodi Community, Ebike Bibaikefie,said the communities want the contract awarded to an indigenous contractor they are recommending, "which will create massive employment" in the area.
Addressing journalists on the matter, the Security Adviser to Hydro-Dive, Rear-Admiral James Boa (rtd), confirmed the company's contract with Shell, but denied having issues with the aggrieved communities.
He said, "Yes, we have been called up by Shell to repair the damage on the export pipeline at Forcados and that we are doing very well.
"We have no issues with anybody. We are basically contractors just like any normal Nigerian would go and look for their daily bread. And Shell has deemed it fit for Hydro-Dive to handle this job.
"So if there are ill-feelings from anybody, we feel, they should go and meet the owner to lay the complaint. This contract is legitimately given and we are doing it to the best of our ability and to the full satisfaction of our client.
The federal government is happy with the progress made so far," he said.