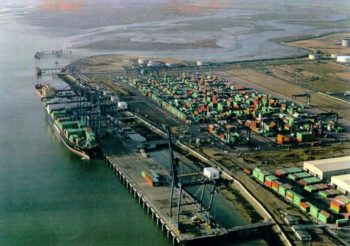 Work on expanding Malaysia's multipurpose Kuantan Port located roughly 25km north of the city of Kuantan is scheduled to begin later this year as part of efforts to raise Malaysia's logistics profile.
The owners of the port – local construction giant IJM and China's Beibu Gulf Port Group – are investing RM1.2 billion (US$268.2 million) to acquire 40ha of land for logistics and industrial expansion projects, as well as RM1.08 billion (US$241.4 million) for a 4-km breakwater. Work will also include the development of a 1-km berthing space.
Initial infrastructure development is slated to be completed by the middle of next year, with the port's container-handling capacity set to increase from around 25 million freight weight tonnes (FWT) a year to more than 50 million FWT.
In addition, a joint venture comprising Chinese companies Shenzhen Yantian Port Group, Rizhao Port Group and local partner KAJ Development plans to spend RM6.3 billion (US$1.4 billion) on revamping Penang Port on the north-western coast of Peninsular Malaysia. Upon completion, the port is expected to accommodate up to 100,000 ships a year and have capacity for shipbuilding.
Port Klang is Malaysia's busiest port and recorded a 10.8 per cent growth in container traffic in 2016, handling 13.2 milliontwenty-foot equivalent units (TEUs). Throughput is expected to reach 16.3 million by 2020, which, according to the Port Klang Authority, will be close to maximum capacity. As a result, in January the government was reported to be considering the development of a port city to be located close to Port Klang on Carey Island.
Improvements to the nation's ports will serve as bookends for the RM55 billion (US$12.3 billion) East Coat Rail Line (ECRL) – a 620-km electrified rail link between Kuantan Port and Port Klang. At the beginning of November, Malaysia and China signed an engineering, procurement and construction contract for the project.
The ECRL will allow for the rapid trans-shipment of freight across the peninsula, reducing shipping congestion in the Malacca Strait, which hosts up to 80 per cent of Significantly, the new land-sea link will bypass Singapore and move a major portion of regional freighting activity north. This could boost Malaysia's profile as a leading logistics hub and open up new routes to markets in North Asia. Work on the ECRL is set to begin later this year and be completed in 2022.
Malaysia's logistics credentials are also being burnished in East Malaysia, with increased investments in the state of Sabah aiming to expand capacity and improve access to traffic to and from the Asia-Pacific region.
At the end of November the federal government announced it was allocating RM1.02 billion (US$230 million) for expansion work at Sepanggar Port, with investments aimed at boosting handling capacity from 500,000 TEUs to 1.25 million.
The work will also deepen the port's basin and more than double the length of its berthing facilities.
While handling domestic import and export requirements, the expanded Sepanggar Port is also expected to serve as a trans-shipment hub for smaller ports in East Malaysia and the wider region once the first stage of expansion is completed in 2020.
Work is scheduled to begin this year, with January 4 marking the submission deadline for proposals for the engineering, procurement and construction of the project.
Increasing Sabah's container handling volume is intended to tap into the international market and develop local production capacity, rather than compete with other domestic ports, according to Siti Noraishah Azizan, general manager of Sabah Ports, the state's main port operator.
"These major investments are not about taking volume from Port Klang, but tapping into trade Asian trade between China and the Philippines," Azizian told OBG.
"Aiming for one million TEUs will allow for lower logistic costs, which will in turn encourage more operators and industries to establish themselves in Sabah."
A stronger flow of investments into the transport and logistics segments, she said, will positively impact other sectors, particularly the construction and building materials industries.    
Copyright Ships & Ports Ltd. Permission to use quotations from this article is granted subject to appropriate credit given to www.shipsandports.com.ng as the source.