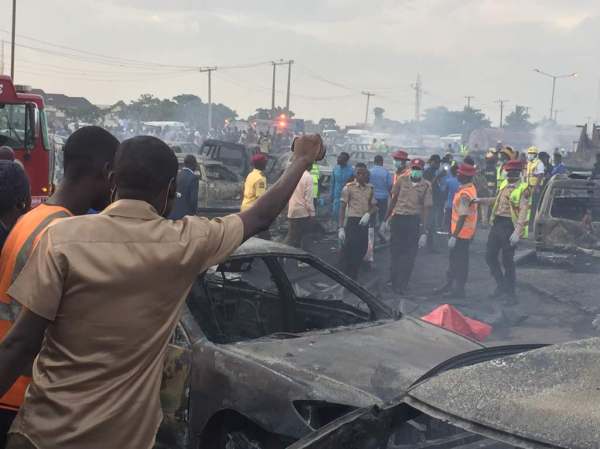 The past few weeks have been nothing but depressing for Nigerians. People have died in the most unfortunate and completely avoidable circumstances. The most perplexing deaths are the ones caused by trucks and tankers on our busy roads. First it was the Ojuelegba incident that claimed three lives and destroyed vehicles. And now it is the Berger axis of the ever busy Lagos–Ibadan expressway where a tanker caught fire during rush hour when people were returning from work to meet their waiting families. The ensuing disaster claimed about nine lives and over 60 vehicles were burnt beyond recognition. This is even more depressing because family members may not be able to identify the individuals that have been lost to this calamity. Now they are all gone and there is absolutely nothing we can do to restore the lives, goals and aspirations of these ones. But there is a lot we can do to prevent another occurrence of this nature. This is the only thing we can truly do to respect the departed.
Fundamentally, we must as a nation begin to see human life differently. We must not deceive ourselves to think that we hold human lives dearly in our nation; it is obvious that we can do better. Our disposition to safety has been abysmally poor. We cannot claim to cherish human life when we treat safety with so much disdain. In the two recent cases involving truck and tanker in both Surulere and Berger, the mishaps could have been avoided if necessary safety precautions had been taken.  There are laws restricting tankers and trucks to particular hours of the day when they relatively pose less threat to other motorists on the road. As a matter of urgency we need to enforce these laws especially in a metropolitan state like Lagos.
This latest disaster raises many issues that we should reflect on as a nation. The tanker was definitely headed for a destination outside Lagos after probably lifting fuel from one of the tank farms in Apapa or nearby locations. If our refineries were working and the pipelines for transporting petrol were fully functional, there would not have been any reason to transport fuel via roads. The Berger incident is an eye-opener and could have happened anywhere so long as we keep transporting imported petrol in tanker across the country. And most importantly, now is the time to fast-track investment in rail. If we need to declare an emergency to be able to source funds to ensure the resuscitation of rails in the country, then we have to do that. The idea of haulage on the road is totally out-dated and too dangerous. If our rail lines were functional there would be no need to transport fuel, or any other highly inflammable substance of this nature on the road during busy hours.
Nevertheless, since this is the situation we currently find ourselves, we call on the government to review the law guiding the movement of tankers in urban cities like Lagos state to at least mitigate this manner of disaster. Whilst we commend the Lagos state government for initiating measures to curb the usual traffic gridlock on the busy Lagos-Ibadan expressway, there is need to intensify efforts. The tragic incident perhaps would not have claimed lives if the usual traffic gridlock on the road was non-existent.
Ultimately, we need to place higher premium on human life in our nation. How much does the Nigerian life cost? How much can we give to protect the Nigerian life? We may not be able to completely eliminate disasters, but we can do so much to prevent them and we can only do that when we place a premium on the people's lives. Our government at all levels always have to lead by example. We cannot continue to allow people die due to avoidable errors and omissions. Now is the time to review our laws, and now is the time to do everything possible to ensure functional rail system in Nigeria. In addition to building the infrastructure and implementing laws, the government needs to work with NGOs and transport associations to provide continuous training and sensitisation to truck drivers in Nigeria. Some organisations have promoted programmes like this in the past; however the government needs to adopt it as a strategy to educate the drivers on the need to value their lives and the lives of others by simply doing the right thing on and off the road. The life of every Nigerian matters and must be protected. Enough of the avoidable deaths!
Copyright Ships & Ports Ltd. Permission to use quotations from this article is granted subject to appropriate credit given to www.shipsandports.com.ng as the source.