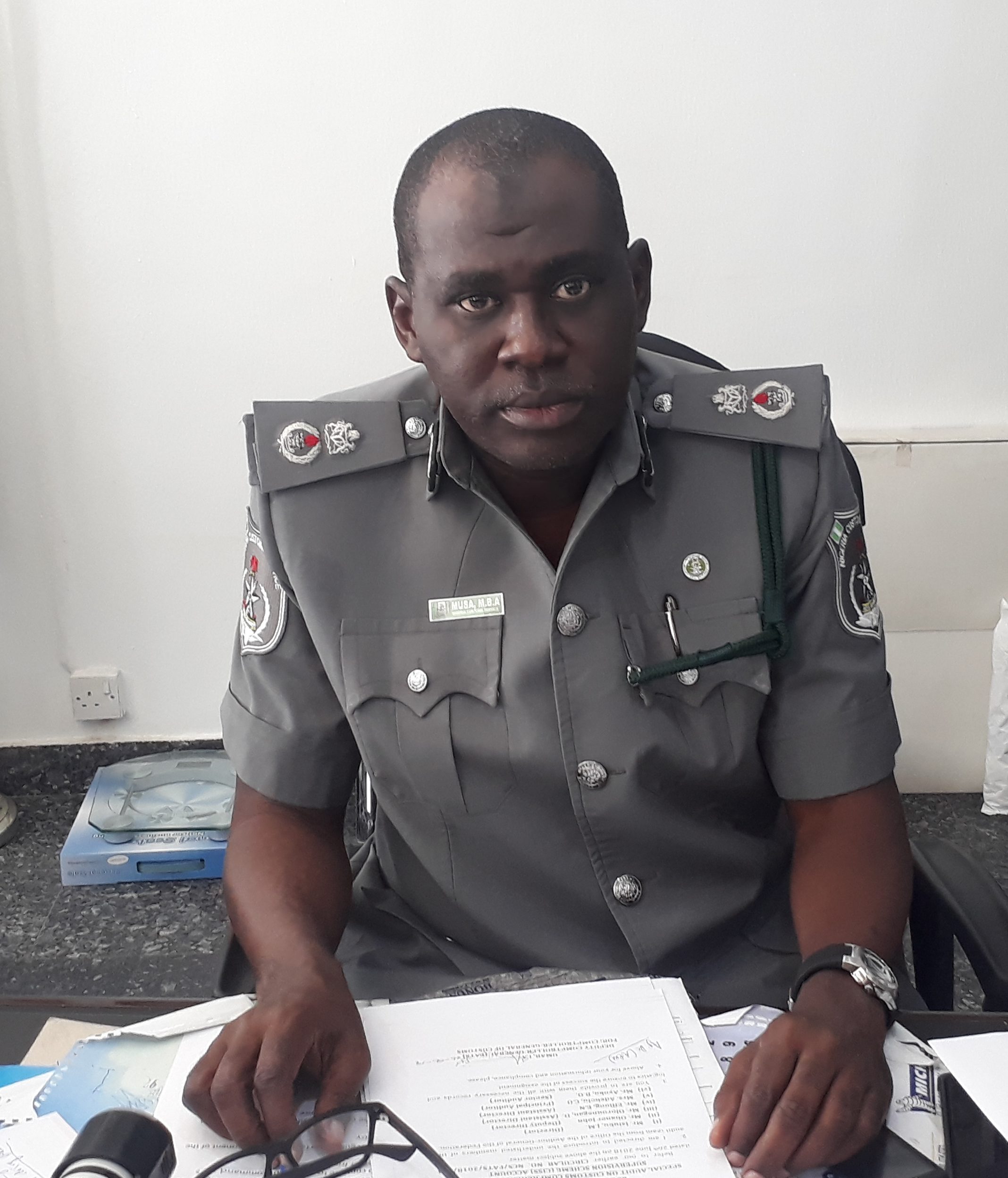 Comptroller Musa Baba Abdulahi is the Controller Tin Can Island Port command of the Nigeria Customs Service. In this interview with Shulammite 'Foyeku, he highlights some of the challenges the port operation and cargo clearance in Nigeria.
The customs management last week disclosed that some fraudsters in connivance with corrupt officers at Tin Can command hacked into the customs software to release goods illegally and evade duty payment. What measures have you put in place to address this situation?
There is nothing like hacking at Tin Can Island port and I don't know anything about the whole idea of the picture of the hacker being posted somewhere at our enforcement unit. We are operating NICIS 11 which is biometric. It is a system where everything you input in the system is all about you, unlike the NICIS 1 or ASYCUDA 2.0 where other people can use other people's access. Under NICIS 11, that is not possible because it is just like you and your international passport.
Lately, there have been complaints from agents that officers often report late for examination thereby delaying cargo clearance. How would you react to this?
You see, even with the ease of doing business mandate, the first mandate is coordinating and scheduling of examination. This means all examination to be conducted the next day already has their schedule and Customs only plays the coordinating role. Before now, it is a situation where all agencies having responsibility in the examination of cargo just come but nobody is coordinating. So you have a situation where some agencies will be present while some will not be available but right now with the ease of doing business initiative, customs is playing the coordinating and scheduling role. So all agencies expected to be present for the examination are suppose to be there for the examination and customs as playing the coordinating  and scheduling role definitely will not be found wanting.  So the whole idea of officers not coming for examination on time is not true. I think the best thing is for journalists to do some intelligent work themselves to verify this claims by the agents. The whole idea of trade facilitation is about three things. First is procedure which is under customs control, second is infrastructure and third is logistics. Customs role is that of verification that an agent has submitted his declaration for customs and as soon as you verified and it is order, we release, it then goes to the terminal operator. We have shipping companies and terminal operators also playing important roles. However, infrastructure and logistics are beyond us and so sometimes, there is need to emphasize this issue. Most officers come to work on motorcycles because of the bad road network and this is a location that generates a lot of revenue for government. But from a layman's perspective everything about the port is Customs. Customs operation does not last more than six hours for verification and examination especially for complaint traders.
There are unconfirmed media reports in some quarters that the Customs management wrote to PEBEC that it would be pulling out from the Executive Order on ease of doing business because it is more concerned about security. How true is that?
The operation of customs is guided by the Customs and Excise Management Act (CEMA). So certain issues like what you have mentioned, if really they exist, I think the best thing is to go to the laws and look at their provisions. If the laws provide some level of responsibility or duties, definitely, you will be guided by those laws. You can't do anything outside the law. That is the only thing I will say about this issue. But to the best of my knowledge, the issue of trade facilitation is not even about Nigeria alone, it is an international thing. Customs is an international organization with international standard as to best practices. So, most of our operations are being guided by these conventions. The ease of doing business is an international initiative which Nigeria has taken strongly in order to facilitate trade and ensure we get some competitiveness especially in the sub-region. The World Customs Organization and World Trade Organization have created this standard and the standards are clear. What is most important is that the importer or trader has to be compliant. Ease of doing business policy of the government is for compliant traders to facilitate trade and not to facilitate fraud. If you are compliant, then there will be no issue but in a situation where you find operators who are not compliant and they want to enjoy the benefits of compliance that will not be possible because it is the opposite. People who make false declaration and entries should not expect to benefit from the incentive. I think we need to do a lot of work on this issue of compliance by traders. Most of the systems we operate are risk management based. They are systems that are supposed to work on their own but because people are not compliant, there will be delay.  If you say your container should not be physically examined for instance, that is not the law. The law provides that certain containers should be scanned and some should go for physical examination. If your own happens to fall within those ones which are supposed to be examined physically do we then push them to scanning because we want to facilitate trade?
How is your command complying with the directive on 24 hours port operation?
We operate 24 hours. Officers work on Saturday and Sunday. But there is the issue of infrastructure too. That is why I emphasized that the whole thing about trade facilitation is not about customs procedure alone. We have tried to perfect the procedure aspect of trade facilitation. There might be issues, here and there but as much as possible the procedures are perfected. For example, what has customs got to do with lighting of the port? Do you ask an agent to come to this place in the night and then there is no light? So some of these things are beyond customs but the impression by so many people is that whatever has to do with the port, it is the customs. That is why I was emphasizing then that you really need to separate these things. Assuming a vessel arrive our waters, even before arrival, the shipping companies are suppose to send manifest. It is their responsibility not customs'. So if there is any delay, it is not caused by customs. The agent summits the declaration and after submission, it assesses automatically. The duty payable is there and the payment system is online, which means, you can easily pay with all these modern tools and the next thing is selectivity either for physical examination or for scanning. If it is for physical examination, it is scheduled for examination and as soon as all other agencies that are supposed to be part of the examination are present and the container is examined, it is released. So you can see that very small portion of the whole activity is what customs does. It is only amplified because we have to account for government revenue and you know people will not want to pay correctly.
What is the percentage of compliance level with import regulations by importers?
Actually, we have compliant operators. We have the blue chips companies and we have the manufacturers. But if we are to rate it generally, we can say we have about 30 percent compliant level. So you really need to dwell in educating importers and agents on the advantage of compliant. There are rewards for compliance. Part of the reward for compliance is fast track. That you are seen to be compliant, you are granted an opportunity to take your consignment to your premises for physical examination process. So as soon as you pay and it assesses automatically, you are free to take your consignment as soon as the terminal operators releases it and you go. With that, you gain competitiveness and you do business at a cheaper rate.
In recent times, we have discovered that some companies that have been given fast track have abused it. Are you re-considering that policy?
We always anticipate that there will be this type of issue where somebody is granted this opportunity and he tends to misuse it. If that happens, the company is degraded; it is removed from the scheme.
Recently Nigerite was found to have abused the fast track scheme. What is their status now?
For Nigerite, we have removed them; they are no longer under the scheme.
Copyright Ships & Ports Ltd. Permission to use quotations from this article is granted subject to appropriate credit given to www.shipsandports.com.ng as the source.