The Gulf of Guinea, South East Asia and The Indian Ocean High Risk Area (HRA) have all seen a significant reduction of reported maritime crime throughout July, August and September of this year, according to data released by UK's maritime intelligence and operations company Dryad Maritime.
With the exception of the Sulu Sea, incidents of maritime crime in South East Asia are at their lowest since 2009 and in the Indian Ocean HRA there were no confirmed acts of piracy in Q3, with the last recorded incident of piracy reported on a merchant vessel in 2014.
In the Gulf of Guinea and within Nigeria's Economic Exclusion Zone (EEZ) there has been a decrease in the frequency of attacks with a total of just four attacks against commercial shipping at sea off the Niger Delta since early July, this compares to 36 in the first six months of the year.
Despite this quarter's positive statistics, the analysis is released with the caveat that expectations for the remainder of the year, especially in relation to the GoG, should be tempered, according to Dryad Maritime.
"We have cause for some optimism on piracy and maritime crime, with a generally stable and improving situation in some areas balanced against some serious cause for concern in others," Ian Millen, Chief Operating Officer at Dryad Maritime, said.
He added that in the Gulf of Aden and Indian Ocean, Somali piracy remains broadly contained and, in Southeast Asia, piracy is at its lowest level since 2009, with a 65% reduction when compared to this time last year.
"The bad news, however, is that 81 people have been kidnapped, 7 have been killed and 61 remain in captivity," Millen said.
Additionally, Dryad Maritime reported that beyond piracy and maritime crime, the maritime domain poses other threats.
Millen said that, from conflict situations ashore in Libya and Yemen, to the threat of anti-ship missiles in busy shipping lanes, as evidenced by recent incidents in the southern Red Sea, "seafarers continue to trade and transit in some dangerous waters," while the continuing humanitarian crisis of Mediterranean migration puts other pressures on the shipping industry and its seafarers.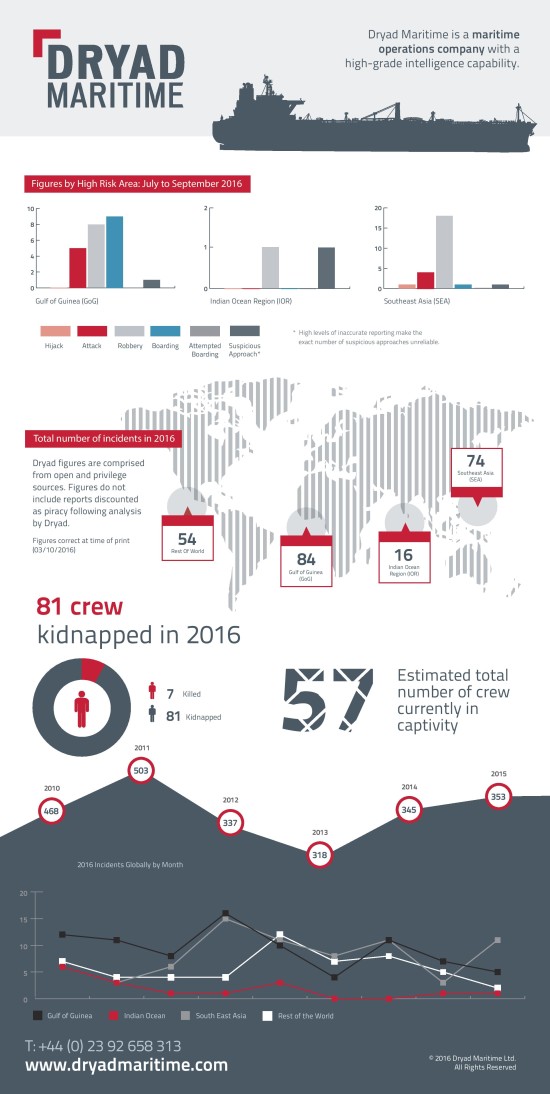 Copyright Ships & Ports Ltd. Permission to use quotations from this article is granted subject to appropriate credit given to www.shipsandports.com.ng as the source.