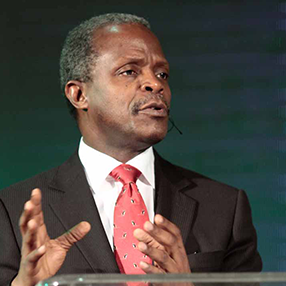 Vice President Yemi Osinbajo on Thursday said the activities of criminals on Nigeria's maritime environment are a threat to both national economy and security.
He spoke at the National Defence College (NDC), Abuja, during the launch of government's document on; "Harmonized Standard Operating Procedures on Arrest, Detention and Prosecution of Vessels and Persons in Nigeria's Maritime Environment 2016."
Osinbajo said the seas has great importance for trade and movement of goods and services, noting that the threat on Maritime security and sabotage of national maritime infrastructure, crude oil theft, illegal oil bunkery, piracy, armed robbery at sea and environmental degradation has to be treated as an existential threat.
He said the Harmonized Standard Operating Procedure (HSOP), for government maritime stakeholders aims to address the consequences losses in commerce and the degradation of our waters may have on our economy.
He also said although the Nigerian Navy has been robust in its activities to check maritime crimes, he praised the HSOP as must enduring especially captured within the ambit of law, noting that effective enforcement of law and order, is clearly the most challenging issue in governance today.
He said the HSOP is drawn in the spirit of African Integrated Maritime Security Document and the recently adopted African Union Charter on Maritime Security.
Earlier, the Chief of Naval Staff (CNS), Rear Admiral Ibok-Ete Ibas said in fighting maritime crimes the Nigerian Navy in collaboration with other Maritime Law Enforcement Agencies (MLEAs) have arrested several vessels and persons involved in criminal activities within the maritime environment.
He noted that while some of the cases have been successfully prosecuted, the processes of enforcing the law in others have dragged on seemingly without conclusion.
He said some of the arrested vessels have been in the custody of the Navy for over 10 years which drains the Navy logistic and financial resources for their maintenance.
He argued that the delay in the prosecution in most cases linked to inadequate synergy among MLEAs, which creates loopholes for the perpetrators to evade justice and sometimes drag the MLEAs into litigations that could have been avoided.
He added that: "some of these criminal elements to walk freely back into the streets without facing justice. Some of them even return to the maritime environment to commit further crimes to the detriment of the nation."
He said this made it important to develop the HSOP to serve as prescription of standard operating procedure for the multiple agencies operating within Nigeria's maritime environment.
Copyright Ships & Ports Ltd. Permission to use quotations from this article is granted subject to appropriate credit given to www.shipsandports.com.ng as the source.