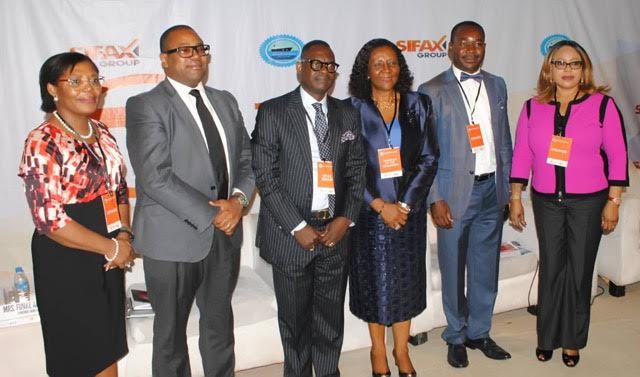 SIFAX Group and other maritime experts have urged the Federal government to adopt the Public-Private Partnership (PPP) model to address the challenge of port infrastructure deficit.
This was the unanimous conclusion of leading academic, business, legal and maritime experts who gathered for the second edition of the Taiwo Afolabi Annual Maritime Conference, a partnership between SIFAX Group and Maritime Forum of the University of Lagos, which was held on the university campus.
While delivering the keynote address, Executive Director, SIFAX Haulage and Logistics, Major Henry Ajetunmobi said that the public-private partnership model remains the most attractive option opened to the government to develop and maintain critical port infrastructure due to its inherent benefits.
These benefits, according to Ajetunmobi, include: maintaining and improving upon service level, leveraging on private sector skills and competencies in project execution and service delivery through improved skills, technologies and innovation, unlocking access to capital and cost efficiencies, maintaining safe and secure operations and freeing government funding for other sectors of the national economy, other than port development and port renewal.
"As the government's concession of the ports to private terminal operators enters the second decade of its existence, one expects stronger consolidation of the gains of concession that are already witnessed beyond dispute by various classes of port users and operators as well as government agencies. Consolidation can come only through greater investments in port infrastructure anchored on stronger public-private enterprise involvement."
"The current bad state of port access roads, especially to the two ports in Lagos, Apapa and Tincan – the ports that receive over 70 percent of the total cargo throughput in Nigeria – is a rather sad commentary on the way we have fared as a nation even on the one transport mode we appear to have chosen. As it is well known, the negative consequences of this development are not just telling on the economy and the state of equipment; they also impact adversely on human health both of port users, operators, and residents of the host communities themselves.
"This is one area that would benefit from decisive PPP – driven investment intervention. Perhaps the time is now right to start considering adoption of other options and models of maintaining and improving upon the quality of our port access roads, including concessioning through tolling. Or perhaps we should strive for bolder and more ambitious option". Ajetunmobi said.
Also speaking, Taiwo Afolabi and Princess Vicky Haastrup, noted that the high-level of efficiency synonymous with the private sector would improve service delivery and facility if the government deepens the involvement of the private sector in the maritime sector, adding that the success recorded by the terminal operators in the port concession should help government decide in favour of the PPP model.
The conference was well attended by maritime experts which includes Group Executive Vice Chairman, SIFAX Group, Dr. Taiwo Afolabi; Executive Vice Chairman, ENL Consortium, Princess Vicky Haastrup; Senior Partner, ACAS-Law, Funke Agbor (SAN); Executive Director, SiFAX Haulage & Logistics Limited, retired Major Henry Ajetunmobi; Strategy & Operations Lead, Deloitte West Africa, Bola Ashiru; Chairman, Shipowners Forum, Margaret Orakwusi, former Managing Director, Ports & Cargo Handling Services Limited, Mohammed Bulangu, among others.
Copyright Ships & Ports Ltd. Permission to use quotations from this article is granted subject to appropriate credit given to www.shipsandports.com.ng as the source.