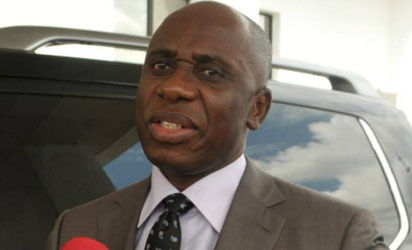 The Minister of Transport, Rotimi Amaechi has said the federal government is set to demonstrate its resolve at improving foreign trade between Nigeria and other nations through the ratification of a new seamless carriage regime known as Rotterdam Rules.
Amaechi said concerns that the current regime governing international carriage of goods by sea; lacks uniformity and fails to adequately take into consideration, door-to-door contracts and the use of electronic documents, e-documents, in the transportation sector prompted the federal government to adopt and move to ratify the new carriage regime developed by the United Nations, UN, for the international conveyance of goods wholly or partly by sea.
The minister, who was represented by the permanent secretary of the ministry of transport, Alhaji Sabiu Zakari, disclosed this while delivering the key note address during the validation colloquium of the Rotterdam Rules held in Abuja on Tuesday.
Amaechi noted that the ratification of the rules which has been passed by the UN will provide Nigeria with a renewed hope of operating a more unified, more balanced and modern carriage regime when engaged in international trade.
He said: "The Rotterdam Rules is a more comprehensive, more perfect, more balanced, more modern and more enduring carriage of goods regime. "The drafters therefore took the pain to cover as much issues as possible which were left unregulated under the previous conventions, without losing sight of the need for acceptable compromises.
"The government wants to have a seamless trade rules and regulation, because what we have currently is a different and conflicting set of rules when trading with various countries. But we need a unified system.
"So, the ratification of the rules will demonstrate the federal government's resolve at improving and ensuring that everything works smoothly when we engage in foreign trade. "it will also take care of our inland shippers and inland infrastructure like the dry ports, which is also covered by the Rotterdam Rules.