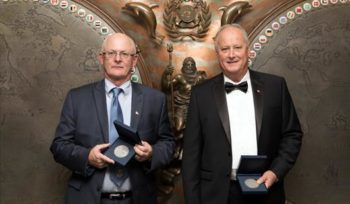 Two maritime pilots who defied fire to bring a burning ship to safety, averting a major maritime catastrophe, received the 2017 IMO Award for Exceptional Bravery at Sea during the 2017 IMO awards ceremony, held on November 27.
Pilots Captain Michael G. McGee and Captain Michael C. Phillips, from Houston, United States, were recognized for their role in averting a major tragedy in September 2016. The ship they were piloting, the 247 meters-long tanker Aframax River, broke down in the Houston Ship Channel in the middle of the night and burst into flames after colliding with mooring dolphins.
"Captain McGee and Captain Phillips were surrounded by a towering wall of burning fuel as the raging fire quickly spread across the channel, threatening other tank ships and nearby waterfront facilities. Both pilots remained at their stations on the bridge of the ship during the fire. Captain McGee managed to manoeuvre the stricken and blazing vessel away from surrounding ships and facilities. Captain Phillips coordinated communications and firefighting efforts with the United States Coast Guard and numerous local fireboats. Captain Phillips rushed to grab a fire extinguisher and put out a fire raging on the port bridge wing," IMO said in a release.
As informed, the inferno was finally extinguished after 90 minutes, leaving both pilots exhausted and suffering minor burns. Captain McGee, using tugs, was then able to bring the damaged tanker safely to a mooring facility.
Captain McGee and Captain Phillips were nominated by the International Maritime Pilots' Association (IMPA). The Award was decided by a panel of judges and endorsed by the IMO Council at its 118th session in July.
Accepting the Award, Captain Philips said that the incident on the night of September 6, 2016 was not something that they encountered in routine piloting duties.
"It's also not something that we train for or practice. Frankly, we didn't have a lot of time to even think about what we needed to do. We just did it," Captain Philips said.
"Pilots don't sit back and wait for others to tell them what to do. We also feel a deep responsibility for protecting our port. In that respect, we accept this award on behalf of our fellow pilots in Houston and everywhere else in the world," he said.
Copyright Ships & Ports Ltd. Permission to use quotations from this article is granted subject to appropriate credit given to www.shipsandports.com.ng as the source.