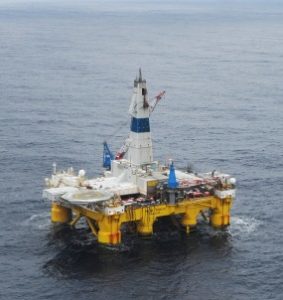 Eni US could begin work on oil exploration in federal waters off Alaska as soon as next month after the Trump administration on Tuesday approved permits for leases the company has held for a decade, the Interior Department said.
The department's Bureau of Safety and Environmental Enforcement, issued Eni US, a unit of Italy's Eni, a permit to explore for oil from an artificial island in the Beaufort Sea. Eni is the first company allowed to explore for oil in federal waters off Alaska since 2015.
The approval is part of the Trump administration's policy to maximize output of fossil fuels for domestic use and for exporting.
Scott Angelle, the BSEE director, said developing Arctic resources responsibly is a "critical component to achieving American energy dominance."
Environmentalists say exploring for oil in the Arctic is dangerous. "The Trump administration is risking a major oil spill by letting this foreign corporation drill in the unforgiving waters off Alaska," said Kristen Monsell, the legal director for oceans at the Center for Biological Diversity nonprofit group.
Eni wants to drill into the Beaufort from the island using extended wells more than 6 miles (10 km) long. Eni US did not immediately respond to a request for comment about when it would start drilling.
In April President Donald Trump signed a so-called America-First Offshore Energy Strategy executive order to extend offshore drilling to areas in the Arctic and other places that have been off limits.
Eni's leases, which were set to expire by the end of the year, were outside of an area protected by former President Barack Obama weeks before he left office. The company's plan to move ahead with risky and expensive drilling in the Arctic comes despite years of low oil prices and plentiful sources of crude in the continental United States.
Royal Dutch Shell Plc quit its exploration quest offshore of Alaska in 2015 after a ship it had leased suffered a gash in mostly uncharted waters and environmentalists discovered an existing law that limited the company's ability to drill.
Republicans are eager to drill elsewhere in Alaska. A tax bill passed by the Senate budget committee Tuesday contained a provision to open drilling in a portion of Alaska's Arctic National Wildlife Refuge. Conservationists say the refuge is one of the planet's last paradises. The bill, which Republicans hope to pass in the full Senate this week, faces an uncertain future. 
Copyright Ships & Ports Ltd. Permission to use quotations from this article is granted subject to appropriate credit given to www.shipsandports.com.ng as the source.