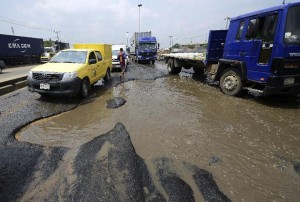 Coordinator, Safety Beyond Borders, a non-governmental organization (NGO), Patrick Adenusi, has called for a more proactive approach to revamping the road transport system in and out of the ports to avoid disaster in the near future.
According to him, inspite of efforts by the regulatory authorities to sanitise the sector, most of the trucks that convey containers are rickety and disasters waiting to happen.
He said that because the average businessman in Nigeria is more interested in profiteering than safety of others, they still deploy those trucks to the ports and are more than ready to bribe their way to get business creating occasions where lives of innocent citizens have been put at risks.
"Besides the container laden trucks, 99.99 percent of the trailers that operate at the ports does not meet basic safety standards. They have poor tyres, quite a number of them don't have good break system working on the trailer parts so it is the cabin that pulls to stop the trailer.
"The biggest of all the risks is that 99.99 percent of these trucks are not visible at night.  Perhaps the drivers do not know that not all containers require to be latched. Containers are supposed to be placed on flatbeds and hooked. But quite a large number of them, the hooks do not function anymore. And so the containers are clipped on the bed. It falls out of the bed because the bed itself is not in order.
Adenusi insisted that to avoid future disaster, there is need for complete overhauling of the transport system at the ports by the government to change the entire trucking system in the maritime sector.
He said that this is the only approach that will stop the madness going on there and to save the country of needless calamity caused by these trucks and trailers.
He said that Safety beyond Borders have done some enlightenment in the port area with the Association Maritime Truck Owners (AMATO) on the need to be safety conscious.
"We have had series of meetings with them, we have done enlightenment campaigns for them and at no cost to them and we even fixed reflexive tapes on their vehicles. We have also interacted and interfaced with them in the maritime sector.
Adenusi said that Nigerians should take safety seriously on the roads especially when they drive as well as knowing the state of their vehicles.
Pointing out the dangers of poor safety culture, he said "At the united nations it was established that 1.3 million people are killed on world roads annually bearing in mind that Nigeria said they are contributing 5000 souls to this figure.
He noted that the figure given by Nigeria which translates to less than 15 deaths per day is far from the truth but added, "On the average about 100 people are killed on Nigerian roads daily which is heart rending."