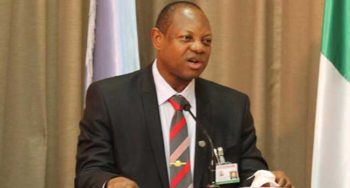 The Coordinator, Presidential Amnesty Programme(PAP), Brig.-Gen. Paul Boroh, has said that 304 amnesty beneficiaries had applied for job at the Maritime University, Okerenkoko, Delta State.
Boroh, who is also the Special Adviser to the President on Niger Delta Matters, made the disclosure in an interview with newsmen, in Abuja on Thursday.
He said the University had commenced operations and placed advertisements for those interested in working with the institution as academic staff.
According to Boroh, President Muhammadu Buhari had approved increase in the of take-off grant for the University from the earlier N2 billion announced to N5 billion.
He said the grant had already been included in the 2018 budget, under the Federal Ministry of Education allocation, presented to the National Assembly.
Boroh described the recent upward review of the earlier budgetary allocation from N2 billion to 5 billion in the 2018 budget for the new university, as a show of commitment on the part of the President towards sustainable peace, stability and development in the region.
He assured that the University would create massive employment opportunities for youths in the region, adding that so many youths have been trained in different disciplines and vocations.
Many of them were trained in marine engineering, maritime studies, seamanship, shipping, marine transport related studies, diving, underwater welding, automobile engineering, aviation, tourism and hospitality, agriculture, particularly in aquaculture.
The Coordinator said the youths can fill the manpower gap in the maritime sector, using the maritime university as the channel.
He added that the maritime university would continue to provide the platform for many other economic activities and development that would shape the geo-political and socio-economic dynamics in the region.
Boroh said the University is now hiring professors, readers, senior lecturers, lecturers, assistant lecturers and graduate assistants to teach in the faculties of Science, Maritime Transportation, Maritime Engineering & Technology, Maritime Environmental Management and General Studies.
"It is important to see unemployed graduates thinking about how to take control of their career development on a daily basis by developing their skills, values and interests as this will be helpful to them throughout their working life,".
He, however, urged youths in the region not to give up on their dreams.
"With high competition for graduate jobs in Nigeria , it's easy to feel discouraged when looking for a job.
"You don't have to give up on your dream job," he said.
He lauded the President for his commitment to the smooth take-off of the University and release of grant. He, however, assured that the federal government would sustained the establishment for good.