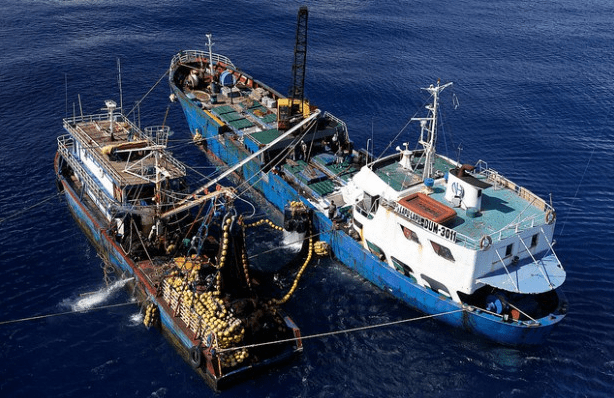 The Chairman, Board of Trustees, Maritime Security Providers Association of Nigeria (MASPAN), Rear Admiral Francis Akpan (rtd), has raised the alarm over the alleged criminal activities of vessels involved in the transshipment of cargo on Nigerian waters.
Speaking at the annual General Meeting of the association in Lagos last week, Akpan said illegal transshipment operation at sea is taking a toll on the country's economy. 
Transshipment at sea involves transferring goods from one ship – often a larger ship – to another before the goods are finally brought into the port. 
While commending the Nigerian Maritime Administration and Safety Agency (NIMASA) for the Deep Blue Project initiative and the Nigerian Navy's Falcon eye, which he said have reduced criminal activities at sea, the retired naval officer tasked both agencies to stem the tide of illegal transshipment activities. 
He said, "We have trans-shippers who transfer cargoes at sea. They are the most offenders because they are leaking the economy. They transfer cargo from ship to ship. Those are major criminals that should be checked." 
He charged the Federal Government to engage the private sector in formulating and implementing policies. 
"The private sector is the engine of the economy. In fact, it has been said that the private sector is the only source and platform for development because the government has no business in business. Those who have business in business are people from the private sector. 
For the year 2020, Nigeria's GDP was $432.3 billion. As contributors to GDP, oil and gas contributed 8.9 percent, agriculture 24 percent, and maritime subsector, two percent as confirmed by World Bank and endorsed by the National Bureau of Statistics (NBS). This is an indication that the Nigerian maritime sub-sector has only scratched the surface of the untapped treasures and benefits we have in the industry," Akpan said.
MASPAN also elected its new executive officers at the AGM. Those elected are Emmanuel Maiguwa (President), Temisan Freedom (Vice President), Armah Anyebe (General Secretary) and Aligbe Andrew (Publicity Secretary). Others are Oladipo Rebecca Julius (Financial Secretary) and Taiwo Bodunrin (Welfare Secretary).