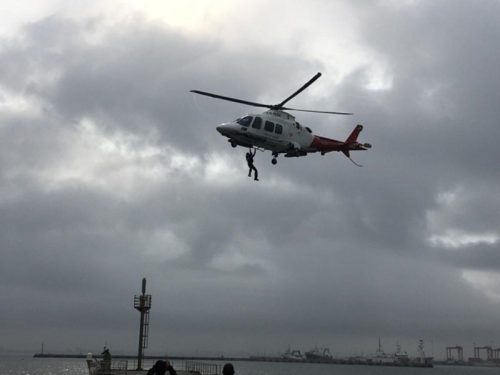 Major swells and stormy conditions can make pilot boarding extremely harzardous and as result lead to disruption in port operations, something that the Port of Cape Town in South Africa is familiar.
Having been plagued recently with weather disruption and high swell conditions at Cape Town the Transnet National Ports Authority (TNPA) is exploring the use of helicopter transfer of pilots to increase capability.
Testing of the helicopter transfer of pilots took place at the port using a helicopter from the Port of Durban between 28 September and 5 October.
Port of Cape Town Harbour Master, Captain Alex Miya, who recently transferred from the Port of Durban, said, "Richards Bay and Durban are the only ports in TNPA's complementary port system which use helicopters to transfer marine pilots. Our recent successful test exercise indicated that this is a viable service to offer at the Port of Cape Town."
The TNPA is exploring the viability of deploying helicopter pilot transfer at the Port of Cape Town. "The process includes engaging with major customers to establish their level of interest and to test whether the service cost would be acceptable. We are also debating whether the service should be shared between the Western Cape ports or dedicated to one port," said TNPA COO Nozipho Mdawe.
There are two possible options, either stationing an existing TNPA helicopter at Cape Town or partnering with a private helicopter company to provide the service when conditions are poor, or there is a shortage of pilotage boats for transfers.
TNPA has an existing fleet of three AgustaWestland (AW 109) helicopters, and two more helicopters from Italian global high-tech company Leonardo to be delivered in 2019. 
Copyright Ships & Ports Ltd. Permission to use quotations from this article is granted subject to appropriate credit given to www.shipsandports.com.ng as the source.