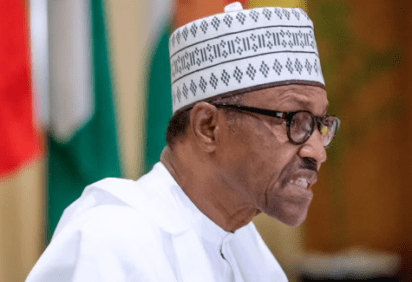 As part of measures aimed at curtailing the spread of coronavirus (covid-19) in Nigeria, President Muhammadu Buhari said he has directed relevant agencies of government to ensure that "only cargo ships that have been at sea for more than 14 days be allowed to dock in our ports". 
The President stated this yesterday on his official twitter handle, @MBuhari. 
He also said the crew of vessels that will be allowed into the ports "must have been tested and confirmed disease-free by the Port Health Authorities". 
He, however, said tat the 14 days restriction does not apply to vessels carrying oil and gas products "as by her nature, there is minima human contact". 
"We have also suspended the movement of commuter trains  to limit the spread of the virus to another parts of the country," he said. 
President Buhari also said that he has ordered the immediate closure of the country's international airports and land borders for four weeks, and directed that all Nigeria Centre for Disease Control (NCDC) staff and experts who are away on training or international assignments return home immediately.
The President said he had approved N10 billion to support Lagos State and N5 billion for the NCDC to step up the fight against the virus. The release of N5 billion special intervention fund to the NCDC, according to him, is to equip and expand agency's facilities and laboratories.
He said protecting Nigerians from coronavirus is a key priority of his administration, highlighting the efforts of health agencies.
"I advise all Nigerians to follow to the letter the health guidelines issued by the Federal Ministry of Health and our State Governments. Wash your hands thoroughly many times throughout the day. Observe 'social distancing' of a minimum of two metres. Do not make unnecessary journeys outside of your homes. Do not attend public meetings or public gatherings – including religious events – which is where, through social contact, the virus can easily be transmitted.
"The Federal Ministry of Health will continue to issue daily updates on all developments. Please refer to public announcements by the Ministry on radio, television, web at www.health.gov.ng and Twitter at @Fmohnigeria," the President stated. 
"The Nigerian Air Force is already making its fleet available to the Presidential Task Force on Covid-19, to enable a better coordinated and more effective response across the country.
"To protect our homeland from external exposure, I directed the immediate closure of our international airports and land borders for fur weeks in the first instance, to enable us put up appropriate policies, processes and infrastructure to cope with suspected and confirmed cases at home, without risking a compounding of the situation with more imported cases. 
"The inconvenience caused by these flight and travel restrictions to our fellow citizens abroad who want to return home is regrettable, but it is necessary for the greater good, and I thank you all for your understanding and cooperation," he said.