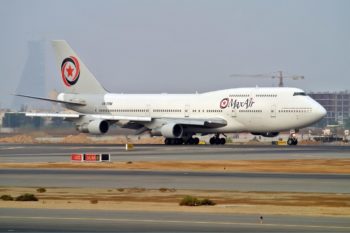 Local carrier, Max Air has launched its domestic flight operations in Nigeria on Thursday.
The airline's Boeing 737-300 aircraft with 29 passengers on board landed at the Nnamdi Azikiwe International Airport, Abuja at 8:52 a.m.
Max Air had been carrying out Hajj, Umrah and chartered operations in Nigeria for over a decade before joining the domestic market.
The flight, which departed from Aminu Kano International Airport at 8:10 a.m, had 27 adults and two children on board.
The Vice Chairman/CEO of Max Air, Alhaji Bashir Mangal, said its domestic operations had commenced in Kano, Abuja and Lagos, adding that other routes would be opened in a couple of weeks.
Mangal said the airline would strive to enthrone customer satisfaction through efficient service delivery, adding that the airline would operate more routes like Sokoto, Yola, Port Harcourt and Maiduguri.
He said the airline would also continue to carry out hajj, Umrah and charter operations.
According to him, Max Air is starting its domestic operation with three aircraft, which include B737-300, 400 and 500 with a plan to bring in more very soon.
He said, "Right now we have a total of 11 aircraft on ground for all our operations of which we currently deploy seven for hajj and three for domestic.
"We are not new in this industry because we started slowly with worldwide charter and later entered into hajj operation and now domestic.
"We plan to join other long-haul flight like China, UK and the U.S in the nearest future.
"In the next two to three weeks, we are going to deploy all our aircraft to go to all the destinations in the country.
"We are going to operate Lagos, Abuja, Port Harcourt, Kano, Maiduguri, Yola and Sokoto for a start and we will operate other routes as time goes on.
"We are determined to satisfy our passengers through better service in order to make them happy to see the difference.
"We want to do something different to satisfy their needs because we are aware of the challenges in the industry."
The Company Secretary/Executive Director Business Development, Max Air, Shehu Wada, said the airline was determined to revolutionalise domestic operation in Nigeria.
Wada noted that the entrance of the airline into hajj operation market brought about positive change to hajj operation in Nigeria.