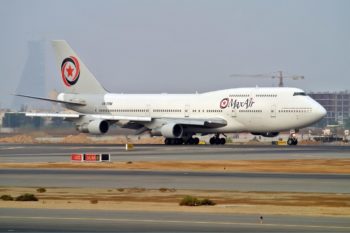 Max Air Ltd, on Monday, said it will begin domestic flights to all major airports within the country in the next few days.
The airline made this known in a statement signed by its Public Relations Manager, Ibrahim Dahiru in Kano.
According to the statement, the Vice Chairman of the Airline, Bashir Mangal, made the disclosure when he received the third Boeing 737 aircraft earmarked for the operation.
It read, "The company is putting final touches on arrangements to commence the domestic operation.
"For now we are going to start with the three Boeing 737 and as situation improves we will bring more aircraft into the system to ease the hardship being encountered by air travellers in the country.
Max Air noted that since inception in 2007, it has been operating with seven wide-bodied Boeing 747 concentrating mainly on the annual Hajj and Umrah operation to Saudi Arabia.
According to the statement, recruitment of Pilots, Engineers, ground staff and handlers to take care of the domestic operation nationwide has been concluded.
"Last week Max Air concluded the airlift of over 5000 Umrah pilgrims to Saudi Arabia during Ramadan fasting period," it said.