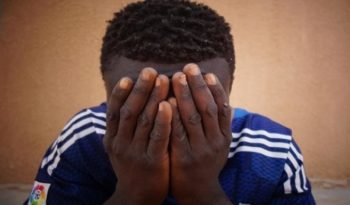 A migrant identified as Ousmane has explained his horrifying experience in Libya in search of greener pasture.
He detailed how his sick friend was buried alive while his brother was murdered.
He narrated his experience in a post published on I am a migrant website:
"I left Gambia for Libya a year ago with a friend of mine. I wanted to earn enough to take care of my mom. It took us three days in the desert to get to Libya. We were 25 people in a small pick-up car. One pregnant woman that was with us passed away because the car was driving too fast. Once I got there, life became even harder. I started begging on the streets so I could pay my rent. One day a lady saw me begging and offered me a job.
"My friend got very sick in Libya. When I had a bit of money, I would buy some medicine for him. He was sick, but not dead. They buried him alive. They said he couldn't have survived anyway. I heard him shout my name from the ground. I ran to him and saw them throwing dirt on top of him. I tried to save him, but they cut me with a knife.
"My older brother had left for Libya before me. He was in Tripoli already so I didn't get to see him. A friend called me yesterday to tell me my brother died. He sent me a picture too. He was 28. I don't even know what happened to him. I don't have any other siblings; they all passed away. My mom doesn't know he died and if I tell her, she will die too, and I will lose everything. How can I go home without him?!
"I saw so many things in Libya that I can't even begin to explain. I was in prison for one month and two days. Every Friday they would kill five people. They will give you the phone and make you call your family so you would ask them for money in exchange for your freedom. If they accept to send you money, they write down a number and attach it to your toe. Even if you pay, sometimes they don't set you free. They say they will throw you out, but they just kill you instead. They would hang you, sometimes shoot you. I saw it happen five different times.
"I said I didn't have a mother, a father – no family. I come from a very poor family so I knew we couldn't afford to pay. So they beat me. They managed to call my uncle and he asked me how much he had to pay. I told him to forget about it, to take care of my mom, to buy medicine and not to pay. Every day they would say: "Ousmane, it's your turn next Friday." And then one Friday they finally called my name. It was either me or someone I knew. I was one of the youngest in prison so the other guy said: "Kill me instead. He is too young to die. When you go to Gambia, go to my village and tell my family I am dead.
"I never thought I would make it out alive. I was supposed to die there. Many people don't even know I am alive. A lot of people cry in prison. I didn't cry once. If you want to pray, they whip you a hundred times. I prayed five times per day. I regret going to Libya. I have never felt so alone. I just want to go back and start my job again. I wouldn't advise anyone to take this route. I don't have a family; I don't have anything now."
Copyright Ships & Ports Ltd. Permission to use quotations from this article is granted subject to appropriate credit given to www.shipsandports.com.ng as the source.