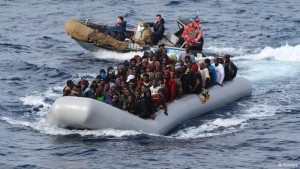 UNESCO awarded its prestigious peace prize on Wednesday to migrant rescue association SOS Mediterranee and the mayor of Lampedusa, the tiny Italian island on the frontline of the refugee crisis.
The Felix Houphouet-Boigny Peace Prize goes to the European NGO and mayor Giuseppina Nicolini "for their work to save the lives of refugees and migrants and welcome them with dignity," the UN cultural body said in a statement.
The plight of migrants constitutes "one of the crucial issues of our day, notably in the Mediterranean where nearly 13,000 men, women and children have perished in shipwrecks since 2013," said acting jury head Joaquim Chissano, former president of Mozambique.
Lampedusa, Italy's most southerly outpost, was the first port of arrival for thousands of migrants setting off from North Africa in the first years of the crisis, which began in 2011 and has developed into the worst since World War II.
SOS Mediterranee, founded in 2015, rescues hundreds of men, women and children each week from flimsy dinghies and boats in the Mediterranean, along with other NGOs.
Nicolini was recognised for "her boundless humanity and unwavering commitment to refugee crisis management and integration in response to the arrival of thousands of refugees on the shores of Lampedusa and elsewhere in Italy".
– 'Watery grave' –
"I dedicate this prize to all those who did not make it across the sea because they were swallowed up, and also to Gabriele Del Grande," said Nicolini, referring to an Italian journalist arrested in Turkey this month while researching the lives of Syrian refugees.
"He was the first to count the Mediterranean's dead on a website, back when nobody even knew people were dying in the Mediterranean. He is now a prisoner in Turkey," she said, calling on the government to "bring him home".
The jury said SOS Mediterranee's Aquarius vessel, co-run by Doctors Without Borders, had saved more than 11,000 lives.
It appealed to the international community "to ensure that the Mediterranean sea becomes, once again, a place where solidarity and intercultural dialogue hold sway, and that it ceases to serve as a watery grave".
Private rescue vessels sounded the alarm this weekend over the "unprecedented mass rescues" of people fleeing horrors in conflict-torn Libya, recovering seven bodies including that of an eight-year-old, and warning more migrants risked drowning without EU action.
Close to 37,000 people have been brought to safety in Italy so far this year, a 45 percent increase on the same period in 2016.