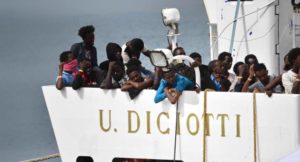 Italy on Friday threatened to withhold next year's contributions to the EU budget if Brussels failed to resolve a standoff over the fate of immigrants stranded for four days in an Italian port.
The around 150 mostly Eritrean migrants are being held in the port of Catania on board the Diciotti, an Italian ship that rescued them in the Mediterranean nine days ago.
Interior Minister, Matteo Salvini, who heads the anti-immigrant League party, has said he will not let them disembark until other EU states reach agreement on taking them in – prompting a criminal investigation into whether they are being held against their will.
Davide Faraone, a lawmaker in the opposition Democratic Party who has been on the Diciotti to monitor conditions, said the migrants had refused their breakfast and were beginning a hunger strike.
Envoys from about a dozen member states – excluding the Eastern states who refuse to accept migrants – were meeting in Brussels on Friday to discuss the situation.
Salvini's government ally, Deputy Prime Minister, Luigi Di Maio, who leads the 5-Star Movement, late on Thursday said his party would not approve next year's European Union funding if there was no action soon. He repeated his threat on Friday.
"The soft line does not work, the hard line will be to withhold funds if they don't listen to us," Di Maio said.
Rejecting the Italian threats as unhelpful, the European Commission said a solution for the Diciotti was its "main priority".
"Unconstructive comments, let alone threats, will not get us any closer to a solution," spokesman, Alexander Winterstein, told a news conference on Friday.
Italy has been on the front line of Europe's refugee crisis, seeing more than than 650,000 migrants land on its shores since 2014, though numbers have fallen dramatically this year.
A campaign promise to further curtail arrivals helped propel 5-Star and the League into office in June.
But previous attempts to share migrants still reaching Italy by sea between its EU partners have had limited success.
Deals were reached in June and July for ships that carried rescued migrants to Italy and Malta, but Salvini this week said that most of the countries that had said they would take in some from a vessel that docked in Italy last month had not done so.
On Thursday, Salvini said he wanted to find a more permanent solution to stop arrivals by setting up offices in Africa where migrants can seek asylum before making the dangerous crossing, an idea also being discussed in Brussels.
On Friday, he remained defiant in the face of a criminal investigation on suspicion of kidnapping, for forcing the migrants to remain on the vessel.
The chief prosecutor from the Agrigento court, Luigi Patronaggio, on Wednesday boarded the Diciotti and said afterwards he had opened a probe against "unknown" persons for holding the migrants against their will.
Salvini immediately urged the court to blame him, defending the move by saying it was his job to protect the country's borders.
"If someone is thinking about arresting me, they're mistaken, because the Italian people are asking for order, rules, respect and controlled immigration," he said.
Agency Report