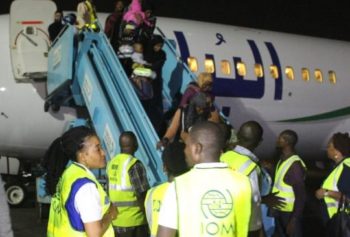 Clement Emeka, one of those repatriated back to Nigeria on Friday, says migrants drink their urine to survive.
The new set of returnees arrived the Murtala Muhammed International Airport, Lagos at about 10:20pm.
Emeka, an indigene of Abia state, said he was deceived by his aunty while embarking on the journey to Libya.
"I left Nigeria 26th of February to Libya to seek greener pasture, my destination was exactly Libya because I have an aunty there," he said.
"I left Nigeria with N250,000 but I was deceived by my blood aunty. My mother's sister deceived me, instead of boarding a plane from Niger to Libya, we ended up going through the desert.
"On getting to Niger, I started hearing stories that's there's no flight and I was being cajoled and encouraged that we should go through the desert and it's not as bad as people describe it."
Emeka, a food technology graduate, recounted how he met a lady who drank her urine when she couldn't find water drink.
"My experience in the desert was not bad as others as the only sad experience I had was the cold weather, although some people faced some torments like there vehicle breaking down and they have to stay there for days that you won't even know what eventually happened to them," he said. 
Emeka said some of the Nigerians being repatriated are the "same smugglers who deceived people in Libya".
He lamented that the smugglers received special treatment from the Nigerian embassy in Libya.
"While we were planning on returning to our country because of the inhuman conditions we were facing, I observed that the larger population of people wanting to return are the same smugglers who deceive people to Libya," he said.
"Our embassy there is giving them more priority, once they take little guys from the detention camp, they give more priority to this same smugglers and that's not fair.
"I say this because I interviewed a man back in Libya and he narrated how he indulge in all kind of shady businesses and that he has spent seventeen years in Libya.
"I have some people back in Libya, I don't know them, they don't know, all they have is their shirt and trousers on them but attention is not giving to them rather those with 6 to 7 luggage are being attended to, it's not well spoken of."
Earlier in December, some returnees recounted how they were sold as slaves by their fellow countrymen.
At least 3,000 Nigerians have voluntarily returned from Libya through the International Organisation for Migration (IOM) supported programme, in the last few months.
The federal government had warned Nigerians to stay off Libya, saying the country is "deadly and dangerous".   
Copyright Ships & Ports Ltd. Permission to use quotations from this article is granted subject to appropriate credit given to www.shipsandports.com.ng as the source.