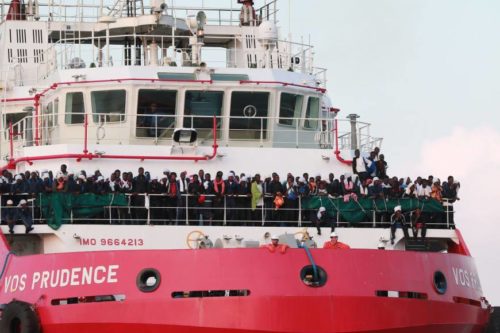 Some 95 migrants rescued by a cargo ship off the Libyan coast have refused to disembark in the western city of Misrata, officials from the United Nations and Libyan coast guard said on Monday.
A cargo ship bound for Misrata on Thursday picked up around 95 migrants whose boat was about to sink, Rida Essa, a Misrata-based coast guard commander, told Reuters.
Essa said coast guard vessels had been unable to reach the site of the accident so the cargo ship brought them to Misrata, Libya's biggest port.
"They (migrants) did not want to leave the ship…We tried to negotiate with them and this has lasted for three days," he said, adding that two migrants eventually left.
The U.N. migration agency IOM said it had provided food, water and blankets but the migrants were refusing to leave the ship.
Migrants picked up by the Libyan guard are being brought to detention centres where they face ill-treatment and abuse, the U.N. refugee agency said in a report in September. Libyan officials deny this.
Libya's western coast is a main departure point for migrants fleeing wars and poverty and hoping for new lives in Europe.
But since last year, smuggling networks inside Libya have been disrupted under an Italy-backed deal with local authorities in a former smuggling hub in western Libya.