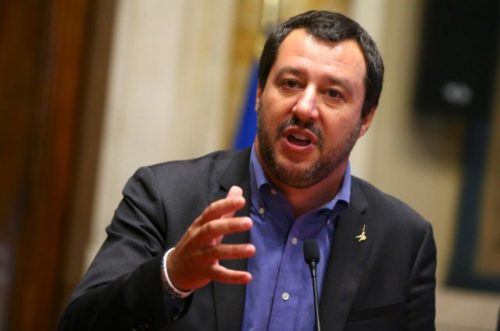 Italian Interior Minister, Matteo Salvini, on Thursday said prosecutors have decided to drop charges laid against him after he refused to let 150 migrants disembark from a rescue ship docked in Sicily.
Salvini in a video posted on Facebook, read a letter from prosecutors in the Sicilian city of Catania, informing him that they had formally asked a judge to drop the case. He gave no reason for their decision.
The anti-immigration leader of the League party had been placed under investigation for alleged abuse of power and holding people against their will after the Italian ship, Diciotti, was denied permission in August to let off migrants, mainly Eritrean, who had been rescued at sea.
Salvini had said he would refuse to let the migrants disembark until other European Union states agreed to take them in. The 10-day standoff ended when Ireland, Albania and the Roman Catholic Church agreed to take charge of some of the migrants.
About 650,000 people have reached Italian shores since 2014, mostly from Africa, and the country houses about 160,000 asylum seekers.
Salvini has led a popular crackdown against immigration since Italy's coalition government took office in June.