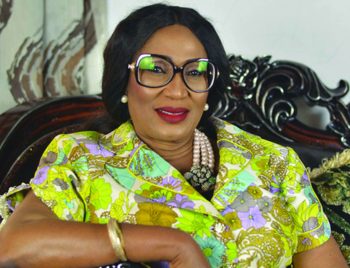 Former Minister of Transport, Dr Kema Chikwe, has said that being a Minister in Nigeria is not a glamorous job. This is even as she revealed revealed that she became "very sick" after serving as Minister under former President Olusegun Obasanjo from 1999 to 2003. 
Speaking in an exclusive interview with SHIPS & PORTS DAILY, Chikwe, who was Nigeria's Minister of Transport from 1999 to 2001 and Minister of Aviation from 2001 to 2003, said "being the first female Minister of Transport and later Minister of Aviation was "too challenging" for her.
She said, "I cannot remember ever sleeping before 3am as a minister and two weeks after I left the position, I was very sick because of accumulated stress. It is not a glamorous job. 
"If you are overseeing a commercialized sector; people want to make money and get safety and that is what transport and aviation is all about. I am a skilful manager. I applied the same management used at home to the sector.
"Also, I was chasing too many war fronts; the political and work war fronts. The most important thing I did was to prioritize everything. One thing I did not do was to listen to people who were unnecessary critics because they wanted something and they didn't get it. 
"I didn't allow media attack to distract me. The most important thing was for me to succeed and I am happy I did."
Chikwe said that the situation at the nation's seaport, when she assumed office as Transport Minister in 1999 was chaotic. 
She said," The first thing that comes to my mind was the situation at the port, which was chaotic; there was congestion and disorderliness everywhere. I think the legacy is that we tried to sanitize the port; when I first assumed office as the Minister of Transport the port especially Apapa and Tin Can ports were infested with wharf rats. 
"I decided that I will flush out these wharf rats because they were all residing in the port, they were living in all sorts of shackles, containers and so on and I took them by surprise by doing my planning, by strategizing and so on and we moved in to destroy all their hideouts. 
"I believe that day; we flushed out about 2,500 wharf rats in the port." 
Click here to read the full interview
Copyright Ships & Ports Ltd. Permission to use quotations from this article is granted subject to appropriate credit given to www.shipsandports.com.ng as the source.