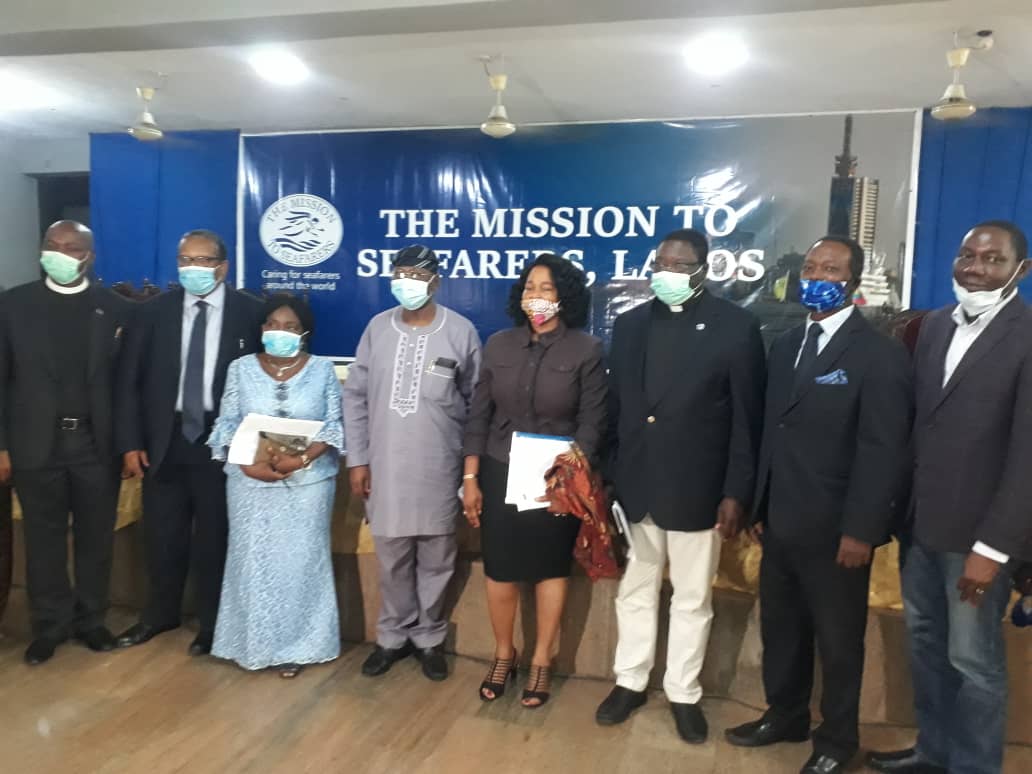 The Mission to Seafarers (MTS) in Lagos has restated its commitment to the welfare of seafarers with a promise to upgrade the Seafarers Centre in Apapa into a world class standard.
This is just as the Mission said it is working to develop a comprehensive database of seafarers on vessels calling at the Nigerian ports to address the severe welfare issues facing them in the wake of the ongoing COVID-19 pandemic.
Chairman of the MTS, Chief Adebayo Sarumi, who stated this while speaking with journalists in Lagos on Monday, said the upgrade of the centre when completed will serve as a place of abode for the visiting seafarers calling at the Nigerian ports.
The upgrade currently being developed at the facility according to him include recreational areas such as a lounge, swimming pool, media internet centre and gym library.
While expressing appreciation to Apapa Bulk Terminal Limited (ABTL) and other stakeholders for carrying out renovation of some dilapidated section of the centre, Sarumi called on other agencies to support the Mission to revive the seafarers centre.
"MTSL has an advantage of being the first Seafarer Welfare institution in the country. Beyond any semblance of rhetoric, we are one of few welfare bodies with a physical location specifically dedicated to Seafarer welfare and interaction. Already our Committee in conjunction with developers, architects and engineers are looking at both immediate and longer term plans to optimizing these premises.
"The immediate plan is to upgrade and upscale the centre's facilities to some modicum of acceptable standards. A longer term plan is to collaborate with both our National and International progenitors as well as our industry friends and allies in putting up a world class MTS facility here at Apapa.
"Presently, the seafarer facilities being developed include recreational areas such as a lounge, swimming pool, a media centre, a gym, library and quiet rooms for meditation. We appreciate immensely our sponsors and supporters who have assisted us in the past and are still presently standing with us, in the development of the centre. It is also our hope that both the public and industry stakeholders would join us in this regard. Indeed we intend to reach out more effectively as the present contagion subsides.
"We have, in a very short period, developed a strategic plan designed to achieve a myriad of objectives. These include elevating public seafarer awareness with technology assisting greatly in pushing an online presence even as we seek to develop social media outlets.
Sarumi also informed that the Mission has concluded plans to host a global virtual seminar on Thursday as part of activities marking the Mission's week.
"We are delighted with the quality of speakers that have graciously accepted to join us at this event. We are further encouraged by the response of the participants that have continued to register for the event. It is our hope that the proceedings and outcome would be a veritable future blueprint towards improving the lot of the seafarer," he said.
"If circumstances allow, we also hope to make some visits to Maritime institutions and intimate them of our Vision. We hope to cap the Mission Week on Sunday 12 July 2020 with a Thanksgiving Service, which will also be broadcast online.
"These are just the tip of activities lined up to make a marked difference in Seafarer Welfare. It is our hope and intention that we can form a sustained and substantive collaboration with the industry and the public, even as we strive to reshape Seafarer Welfare in the country," he said.
In their remarks, Managing Director of ABTL, Capt. Marvin Abe and President, Nigerian Association of Master Mariners (NAMM), Capt Tajudeen Alao, commended the efforts of MTSL in promoting seafarers welfare,  assuring of their continous support to the Mission.