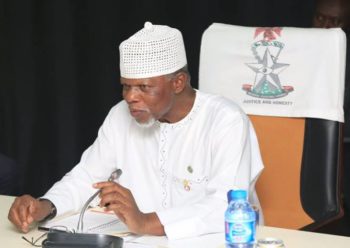 Last week's directive by the Comptroller General of Customs, Hameed Ali ordering the dismantling of illegal checkpoints across the country has been greeted with mixed reactions from industry stakeholders particularly importers and clearing agents.
Prior to when this directive was issued last week, traders along Lagos- Badagry – Seme road which had no fewer than 18 checkpoints mounted by operatives of the Federal Operations Unit, Zone 'A' and officers of the Seme Border command had complained about delay in the movement of goods and travellers which had caused huge losses to them.
Motorists and clearing agents have also been severally subjected to harassment by officials of the NCS. Clearing agents on many occasions have also complained about their goods being subjected to another round of checks after they have been duly cleared from the ports.
To avoid forfeiting such consignments, the importer or agent will be made to part with additional duty raise on the goods or offer bribe to the officers depending on how well he can negotiate to avoid been delayed.
While some have described the ban as a welcome development, others said nothing has changed as operatives of the Federal Operations Unit and the CG Compliance team will still be allowed to patrol on a 24hour basis.
Some have equally expressed concerns on how the Service will ensure the ban is sustained and complied with owning to the fact that this is not the first time illegal checkpoints by Customs will be dismantled.
Immediate past Comptroller General of Customs, Dikko Abdulahi had in 2014 banned illegal checkpoints by officers but had no political will to sustain it. At first issuance of such directive, the orders will be obeyed but few months later; it will be business as usual.
The CG's directive came on the heels of a Presidential directive from the Presidential Enabling Business Environment Council (PEBEC) on the Ease of Doing Business policy.
In a circular dated 25th July, 2017 and signed by the acting Deputy Comptroller General in charge of Enforcement, Inspection and Investigation, Dangaladima A. A, Ali pointed out that all checkpoints mounted outside 40 km to the borders were illegal while information patrol outside that point should not last more than 24 hours at any given time.
He noted that the 40 km radius applied only to border adding that there should be no checkpoint within the ports areas.
"To further clarify this issue, only two check points situated at Agbara and Gbaji along the Lagos –Badagry- Seme road are statutorily approved for instance," the circular stated.
Speaking on the issue, National President, Association of Nigerian Licensed Customs Agent (ANLCA) Prince Olayiwola Shittu in a chat with SHIPS & PORTS DAILY said the ban was in response to their demand over illegalities been perpetuated by Customs officers on the high way.
While commending the Customs boss for the directive, Shittu however noted that it was an indictment on the Service for the CG to have admitted that there are illegal checkpoints operated by officers.
"This is an indication of our demand that a lot of illegalities are been performed by Customs officers on the high way and the multiplicity of checks is becoming an embarrassment to everybody including customs themselves.
"The fact that it is referred to as illegal checkpoints that alone is self indictment because they are confirming that they are doing illegal checkpoints and that is what they are dismantling. However it is a welcome development.
"A situation where you clear cargo in the port and as soon as you come out FOU will harass you. As you go along the road, same FOU, the CG taskforce will also take you, over what?  If there are infractions, why can't they sort it out in the port? So it is an indication of our demand that Customs needs to look inward.
"We are not saying FOU is not relevant, but let us get the approved checkpoints instead of multiplicity of checkpoints. If you are coming out of Onne, you will meet about eight different checkpoints to Onitsha by the same unit of FOU. It doesn't make sense," he said.
Shittu appealed to members of the public to help monitor compliance so that the directive can be sustained.
"We have had directives like this being given in the past but at the end, it will just fizzle out and we get back to square one. But I hope this directive will not be like that. I want to call on members of the public to assist us; the customs agents who bear the brunt will also follow to help us monitor compliance. Where they see officers mounting checkpoints where it is not approved, they should take photograph because we know there will also be effort to thwart the CG's directive.
On his part, President, National Association of Government Approved Freight Forwarders (NAGAFF) Increase Uche said nothing has changed with the directive which he said has been a subsisting customs law.
According to him, that patrol team will still go on patrol and must not spend more than 24hours on any information patrol means they will still be constantly on the road.
"To me there is no change in the directive. There is no new policy direction but a rearrangement of process. So what has changed? We are still at the same point. 40km from the border to any point in the hinter land is a subsisting law. So to me, I have not seen any change," he said.