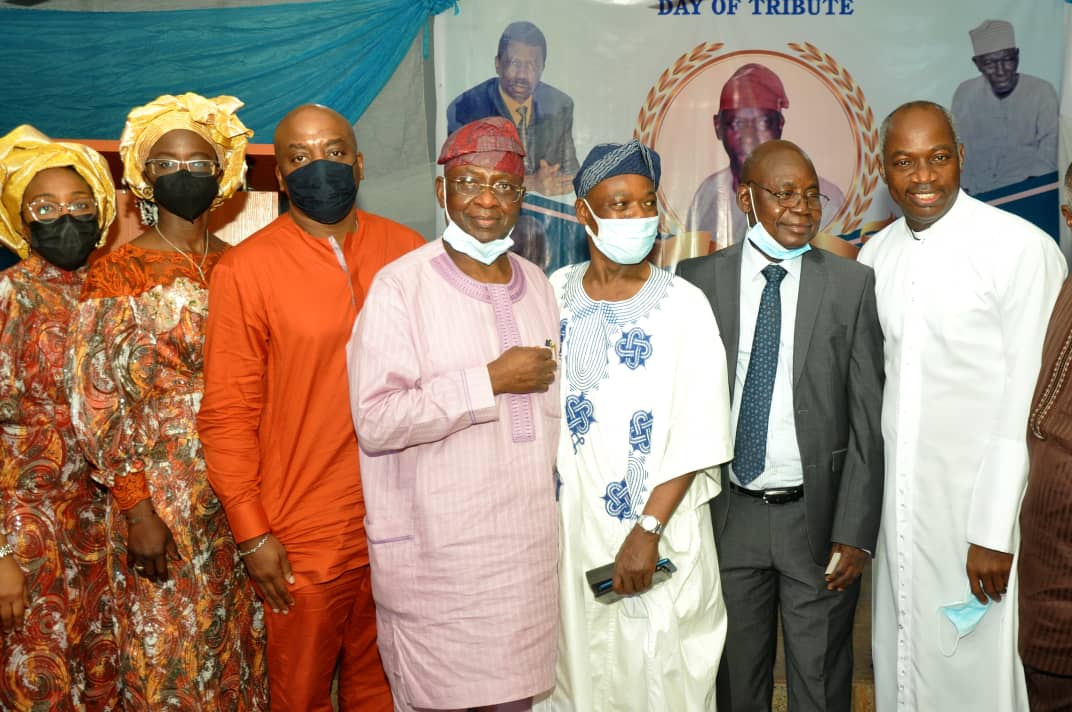 Several maritime industry dignitaries took turns to speak glowingly of the former President, Nigerian Association of Master Mariners (NAMM), Capt. Oyeniyi Oluwole Adeyemo, at a Service of Songs and Day of Tribute organised in his honour on Wednesday.
Captain Adeyemo, who died on August 9, 2021 at the age of 84 years, was a highly respected doyen of the Nigerian maritime community. He served as the President of NAMM and as a Board Member of the National Inland Waterways Authority (NIWA). He also served meritoriously in various capacities at the Nigerian National Shipping Line (NNSL) and at the National Cargo Handling Company (NAHCO), when the agency was owned by the Federal Government.
Speakers at the event held at the Mission to Seafarers Centre in Apapa, Lagos, include the Managing Director, National Inland Waterways Authority (NIWA), Chief George Moghalu; former Managing Director of Nigerian Ports Authority (NPA), Chief Adebayo Sarumi; Founding President, Nigerian Shipowners Association (NISA), Chief Isaac Jolapamo; President, Nigerian Association of Master Mariners (NAMM), Capt. Tajudeen Alao and the President, Association of Marine Engineers and Surveyors, Engr. Adeyinka Okunade, among several others.
Moghalu recounted how the deceased helped and encouraged him when he was appointed as the Managing Director of NIWA in 2019, while noting that in every board meeting of the authority, Captain Adeyemo made "impactful contribution".
"When I was appointed MD of NIWA in 2019 and we had our first Board meeting; that was where I met the captain. He was such a pleasant man. He called me aside and encouraged me, citing challenges ahead. He comes earlier than everyone and makes solid contributions. His contributions were very impactful," Moghalu said.
Also speaking, Chief Sarumi, who is also the Chairman of the Mission to Seafarers (MTS), Lagos, recalled how the deceased master mariner stood by him when he was appointed Head of Operations, Lagos Port Complex at a very young age in the 1970s.
"When I was made the Head of Operations, Lagos Port Complex, I was very young then. I was 34 years of age. However, I was confronted with a number of aged people that I was saddled with the responsibility of supervising. I was confused.
"But it was Captain Adeyemo who I knew not quite long then, that came and encouraged me. He told me that I have what they don't have, that I should continue with my job. Lo and behold, I succeeded eventually to the extent that I was made the manager of virtually all the six ports in the federation.
"Captain Adeyemo was indeed a great man. His period when he served in the port showed him to be an encourager to younger ones," Sarumi said.
On his part, the Founding President of the Nigerian Shipowners Association (NISA), Chief Isaac Jolapamo, said, "I am overwhelmed by this tribute program for our own who we usually called the Chief Priest. I am overwhelmed because I spoke with him on his 80th birthday.
"I've known him for a very long time for his great sense of leadership. For most of the work that we did in ISAN, he was the brain behind it. Chief Priest was always with us. I wasn't expecting him to die so soon.
"We are beneficiaries of his time, efforts, and his expertise. He has done so much for this industry that I don't think anyone of us can undertake. I'll like to say he must not go uncelebrated."
Daniel Adeyemo, one of the children of the deceased, who spoke on behalf of the family, described his father as a disciplinarian.
"My father is a disciplinarian. Even though, we didn't know he impacted lives as much as this but he really gave all to his children. He was a strong presence amidst the extended family. He was a very strong man. I appreciate the organizers of the program. If he was here, he would definitely be proud of you," he said.
In his exhortation, the Chaplain of the Mission to Seafarers and Vicar of St Andrew's Anglican Church, Apapa, Reverend Bimbo Aduroja, charged those who attended the event to dedicate their lives to God and to a worthy cause as late Capt. Adeyemo did.