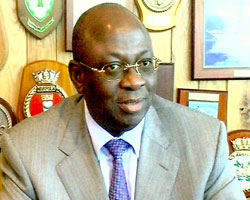 Some residents of Oron, Akwa Ibom State on Wednesday protested against the setting up of a new management for the Maritime Academy of Nigeria (MAN), which is located in the community.
The protesters, holding placards, blocked the entrance of the academy and prevented the workers from going in.
The protesters said Oron people felt cheated that a new rector was appointed from outside of Akwa Ibom State to run the academy. They said that they were expecting the federal government to confirm the appointment of Mkpandiok Mkpandiok as a substantive rector.
Mkpandiok, who is of the Oro ethnic group, was the registrar of the school before his appointment as acting rector, which lasted for about 12 months.
The Minister of Transportation, Rotimi Amaechi, on September 6 inaugurated a six-member Interim Management Committee to restructure the Academy.
The committee, which has Adebayo Sarumi as its chairman, was initially set up to advise the federal government on the best way to restructure and reposition the academy. Their recommendations, Amaechi said, has been approved by the government, and they now have a new mandate to implement the restructuring.
The minister said the committee would work with the new rector, Duja Effedua, who would have complete power to run the school when the committee completes its assignment.
But the protesters said neither the new rector nor the committee members would be allowed to enter the academy.
"Our position is that the federal government should allow the present management to continue," said one of the Oro elders who addressed the protesting youth.
"We have good people who can run the affairs of the school for now till it will take off as a university," said the elder. "What is the essence of the interim management committee?
"Each time an Oro man would come to the position of authority in the school, he would be edged out by people from other ethnic groups in Nigeria.
"We gave this land for the academy to be built here so that we can progress in Oron, but it has so far turned otherwise," he said.
A youth leader from Oron, Etifit Nkereuwem, who was part of the protest, warned the new rector and the committee against coming into the school.
"We reject the committee for the restructuring of the school. We reject the new rector. We can't allow them to enter the school," Nkereuwem said.
"The Maritime Academy is the only federal institution in Oron. By August this year, the school was 40 years old, and for the past 40 years, no Oro man has been appointed rector of the school.
"At least, for the sake of federal character principle, local content policy, and good neighbourliness, they should have considered confirming the acting rector, Mkpandiok, as the substantive rector of the school.
"Oro people have been so marginalised and treated as second class citizens in Nigeria," he said.