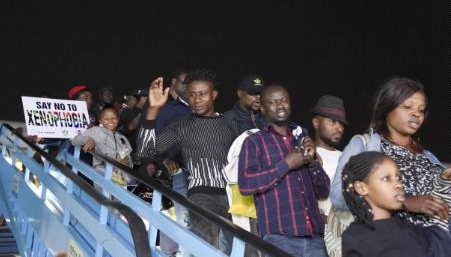 The second batch of 315 Nigerians returned from South Africa on Wednesday at about 7:22 p.m. at the cargo wing of the Murtala Muhammed International Airport, Lagos.
The evacuation which should have taken place on Tuesday was stalled due to delayed landing permit to Air Peace by the South African airport authority.
About 320 people were expected but five passengers were said to have been dropped as a result of documentation issues.
"They're coming off the plane," spokesman of the National Emergency Management Agency (NEMA), Ibrahim Farinloye said. 
A large crowd greeted the South Africa returnees at the Lagos airport after they disembarked around 9 p.m. 
Last week, nearly 200 other Nigerians were repatriated aboard a specially chartered plane following the violence that rocked Johannesburg and surrounding areas.
South Africans have launched a series of deadly attacks on foreigners with many of such attacks directed against Nigerian-owned businesses and properties while the security officials of the former apartheid enclave look the other way. 
The Nigerian consulate in Johannesburg estimates that about 100,000 Nigerians reside in South Africa