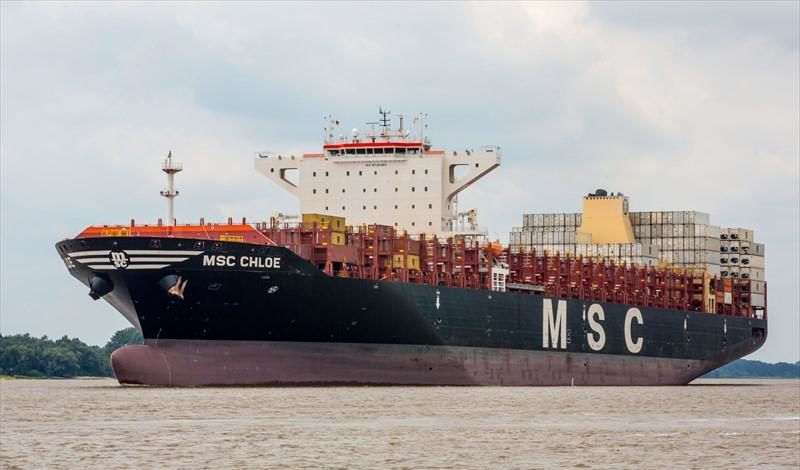 The South African Maritime Safety Authority (SAMSA) has issued an urgent warning to vessels east of South Africa to be on the lookout for cargo containers that reportedly fell from a containership off the coast of Durban a week ago.
According to SAMSA, a total 13 containers were reportedly lost overboard from the MSC Chloe on 7 August 2018 while it was sailing in the Indian Ocean about 22 nautical miles ESE of Durban harbor.
"The vessel was on a voyage from Coega (Ngqurha port in Port Elizabeth) to Durban. Reportedly the vessel was drifting and awaiting berthing instructions when a huge swell struck and caused the vessel to roll about +/- 30 degrees on either side, thereby leading to the containers falling off their stacked position," SAMSA said in a statement.
"A navigational warning is being broadcasted by the Maritime Rescue Coordinating Centre (MRCC) Cape Town and transiting vessels in and around the area are requested to keep a sharp lookout and to report to MRCC Cape Town and Durban Port Control of any sighting," SAMSA added.
The containers lost overboard have been identified by SAMSA as eleven 40 ft. high cube containers, one 40 ft. open top container, and one 40 ft. carrying citrus fruit. Another 25 containers on board have also sustained damage, SAMSA said.
"The vessel's owners, MSC has confirmed the contents of the containers as general cargo ranging from cardboard boxes, plastic bottles, machinery shafts and agricultural supplies. No lost container contained any IMDG (dangerous) cargo or Marine Pollutants," SAMSA said.
SAMSA said it also verified that "declared IMDG containers (dangerous goods containers) as per vessel's stowage plan were on board in their respective positions."
SAMSA has launched an investigation into the incident.
The MSC Chloe has since berthed at the port of Durban on Thursday.