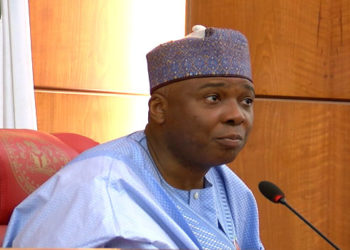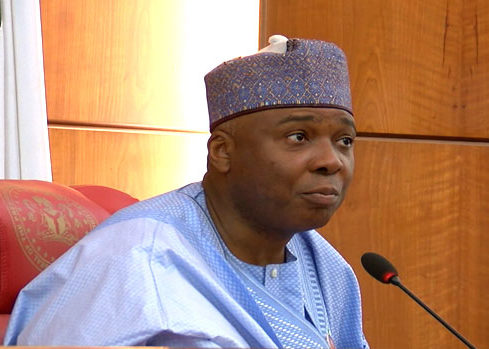 Senate President Bukola Saraki on Monday decried the high level of smuggling of goods from Cotonou, Benin Republic into Nigeria. Quoting a 2016 World Bank report, Saraki said an "astonishing N1.45 trillion worth of assorted goods are smuggled into Nigeria through Benin Republic alone every year".  
Speaking at the opening of a public hearing on "Smuggling – A Threat to Nigeria's Quest to Self-Sufficiency in Rice Production'', organised by the Senate Committee on Customs, Excise and Tariff in Abuja on Monday, Saraki said the activities of smugglers were threatening Nigeria's self-sufficiency in rice production and must be dealt with in the interest of citizens.
He said that in spite of the present administration's effort to make food sufficiency a cardinal policy, it was faced with rising level of smuggling at various borders.
He cautioned that if not nipped in the bud, the situation would adversely affect the growth of the local market and revenue generation among others.
"A considerable amount of revenue to be collected by the Federal Government is being lost in addition to other adverse impacts that the smuggled items cause to local industry.
"Obviously, this act cannot be achieved without the cooperation and connivance of corrupt officials, including those in the law enforcement agencies.
"A World Bank report of 2016 states that an astonishing N1.45 trillion worth of assorted goods are smuggled into Nigeria through Benin Republic alone every year.
"This loss in revenue is one which we can longer afford at this crucial time when the government is doing all it can to meet up with its budgetary expenditures.
"Our local producers have continued to face daunting obstacles posed by the activities of smugglers, in spite of government's restrictions on importations.
"Therefore, we must exploit all avenue and investigate corrupt practices in various Ministries, Departments and Agencies of government,'' Saraki said.
He decried the health problems posed by smuggled goods, saying that importation of unwholesome goods had caused ill health and even deaths.
He said that the Senate's intervention was informed by the need to find a lasting solution to the problem.
Saraki said that sanitation of local rice production in the country would, in line with Senate's Legislative Agenda, encourage diversification.
He called on the Nigeria Customs Service to identify the smugglers to bring an end to their menace, describing them as "greatest saboteurs of the economy''.
He urged the committee and other stakeholders at the hearing to make recommendations for prompt intervention.
The Chairman of the Committee, Sen. Hope Uzodinma, said reports had revealed the huge harm being done to the economy by activities of smugglers.
"Those that may imagine that this is an exaggeration should do well to refer to a recent report of the World Bank on smuggling in Nigeria.
"The report was unequivocal in stating that an astonishing five billion dollars or N1.45 trillion worth of different goods are smuggled into Nigeria annually through Benin Republic alone.
"Yet, this is the only 15 per cent of the total volume of smuggled goods through the Seme border.
"The figure of goods smuggled through the seaports is even more mind-boggling.
"The report has it that over 15 billion dollars or N4.35 trillion worth of goods is smuggled into the country each year through the seaports.
"The story is the same for our international airports. Put together, it means that goods worth over N7 trilion are smuggled into the country each year,'' he said.
The lawmaker stressed that it was more frightening to note that the annual turnover in the hands of smugglers was more than the country's annual budget.
He said the World Bank report further noted that over 25 per cent of the total annual revenue collected by Customs was lost to smugglers each year.
According to him, if you go by the projected revenue of the service for this year, which is approximately N600 billion, it means that the service will lose N200 billion in revenue, this year alone.
He further said that illegal importation of goods had equally affected local industries, leading to loss of jobs, among others.
He said that smuggling was fast proving to be the biggest industry in Nigeria and must be fought to a standstill.
He pointed out that there were other issues of leakages, arising from miss-invoicing by international traders, abuse of free trade zone policies and temporary import permit.
Uzodinma urged stakeholders to make useful submissions that would aid the committee in its investigation.
"I expect that those of you who have expert knowledge or privileged information on why this cankerworm has continued to pervade our economy should equally come forward with them.
"No serious legislative arm of government will sit supine while smugglers are allowed to ravage the economy and deny the government huge sums of legitimate revenue.
"This senate is determined to put an end to this smuggling malady and this investigation is designed to facilitate that,'' he said.  
Copyright Ships & Ports Ltd. Permission to use quotations from this article is granted subject to appropriate credit given to www.shipsandports.com.ng as the source.