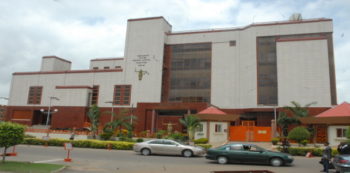 The Supreme Court has reserved ruling till December 15, 2017 on whether or not the Economic and Financial Crimes Commission should continue investigation on Yanaty Petrochemical Limited over an alleged N1.8 billion petroleum subsidy fraud.
Yanaty had dragged the EFCC to the Supreme Court urging it to set aside the decision of the Court of Appeal Abuja Division allowing the anti-graft agency to continue investigation and possible prosecution of the company over the alleged subsidy fraud.
It would be recalled that, Yanaty's Managing Director, Elias Adeojo, was given approval by the Petroleum Products Pricing Regulatory Agency to import 30,000 tons of premium motor spirit, PMS under the petroleum Support Scheme in the first quarter of 2011.
The defendant claimed he imported 31,256.992 metric tons equivalent to 42,171,630 million litres in March, 2011 via MT Beaver.
Yanaty purportedly discharged the product at Lister Oil Jetty, Lagos, which is managed by Oando Marketing Plc.
As a result, Yanaty allegedly received the sum of N2, 731, 942, 103.73 for purportedly discharging 42, 773, 279 million litres of PMS.
However, during investigation, Oando, operator of Lister Jetty, disclosed that MT Beaver discharged only 10, 187.353 metric tons, which is equivalent to 13, 952.926 of PMS for Yanaty, as opposed to 31, 256.292 it claimed to have discharged.
Yanaty, therefore, allegedly received the sum of N1.8 billion (N1, 840, 768, 720) as unearned subsidy from the Federal Government.
In a bid to prevent further investigation into the alleged subsidy fraud, Yanaty approached the Federal High Court, Abuja urging it to stop EFCC from further investigation of the matter, which was granted.
The Abuja Division of the Court of Appeal, however, set aside the decision of the Federal High Court allowing the EFCC to conclude its investigation against the company, a decision which prompted an appeal to the apex court.
When the case came up Wednesday at the Supreme Court, appellant's counsel, Bolaji Ayorinde, while adopting his brief of argument said "as long as Yanaty is concerned, investigations on the payment of Fuel Subsidies by EFCC or any agency has been concluded".
According to Ayorinde, the appellant had been cleared through investigation by the Committee on Verification and Reconciliation of Fuel Subsidy. He submitted that the appellant cannot be reinvestigated on the same allegation.
The learned silk prayed for an order restraining EFCC, their servants, agents or representatives or any agency from carrying out any investigation, interrogation or inviting the plaintiff on anything related to fraud and money laundering.
Responding, Sylvanus Tahir, counsel to EFCC, urged the court to dismiss the appellant's appeal and sustain the judgment of the Court of Appeal. He also urged the court to order the appellant to submit itself to EFCC to clear the allegations made against Yanaty Petrochemical Ltd.
Tahir added that another fallacy by the appellant is the baseless and repeated claims that it was given a clean bill of health by the Presidential Committee