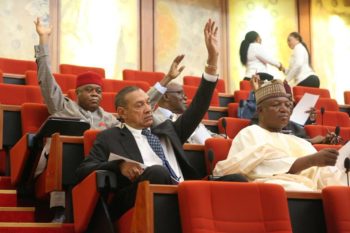 By Patience Danjuma 
The Senate says it has concluded plans to hand over companies found to have erred in its investigation of alleged N30 trillion revenue scam in import and export value chain to the Economic and Financial Crimes Commission (EFCC) for prosecution.
The Chairman of the Joint Committee on Customs, Excise and Tariff and Marine Transport which conducted the investigation, Senator Hope Uzodinma, made this known in an interview with journalists in Abuja on Wednesday.
Uzodinma said those to be handed over to the EFCC were those found to have manipulated the foreign exchange procedure and those involved in money laundering, round tripping and abuse of foreign exchange manual.
Uzodinma also stated that the committee would pass all established evidence against the companies to the commission for immediate prosecution. 
The companies with established cases of infractions within the import, export value chain, he said, would be referred to the Nigeria Customs Service for blacklisting.
"We have also established another department of the investigation, which is an abuse of fiscal policies from Federal Ministry of Finance.
"Most of these companies that have applied and gotten approval as manufacturers of different products, assemblers of various products but import finished goods in the name of CKD will be charged for economic crime," he said. 
"We are going to follow up the prosecution with all evidence available to us. As we are about concluding our investigation on the 60 selected companies being currently investigated, it is very clear that so many collectable revenues are still hanging.
"These are monies that government would have used to ease governance and provide necessary infrastructure and amenities to the citizenry.
"So, this committee will not sit back and allow the economy to crumble. This is just 60 selected companies. We are visiting over 1000 companies," he said.
The lawmaker said of the 60 companies in its first phase of the investigation, the committee had been able to interact with 50 while 10 of the companies were on the run.
He vowed that the committee would ensure that those companies were fished out by the relevant security agencies.
On the funds recovered so far, Uzodinma said a significant amount of money had been returned by some companies.
He said, "Many of those companies have paid partially. I know that with the evidence we have against them we are confident that these companies are now aware that we caught them. We cannot let go of what belongs to the government."
The lawmaker added that the committee took time to carry out the preliminary investigation because it needed to establish the necessary benchmark.
He said, "Now that we have all that and the modus operandi has been established we will put it on autopilot and it will be faster."  
Copyright Ships & Ports Ltd. Permission to use quotations from this article is granted subject to appropriate credit given to www.shipsandports.com.ng as the source.