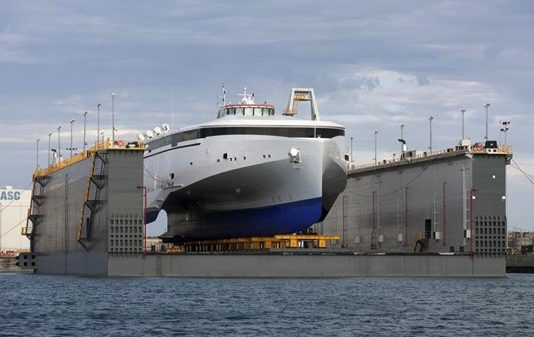 Ten months after the Nigerian Maritime Administration and Safety Agency (NIMASA) spent taxpayers' money to buy a floating dock at the cost of more than N50 billion, the facility is lying idle on the waters in Lagos, SHIPS & PORTS reports authoritatively.
Findings by SHIPS & PORTS reveal that the multibillion naira facility is still lying idle at the Naval Dockyard in Victoria Island Lagos as the agency remains confused on what to do with it.
Recall that NIMASA had in June 11, 2018 taken delivery of the much-touted floating dock, which it said would help boost ship repair capacity, generate wealth and create employment for Nigerians, but ten months after, the vessel is lying fallow and costing taxpayers about N3.6 million daily (over N100 million monthly) in running cost without any economic benefit to the nation in return.
Industry stakeholders who spoke on the development, however, expressed concerns that NIMASA has shrouded the ill-advised acquisition of the floating dock and huge daily maintenance cost in secrecy.
The immediate past President, Shipowners Association of Nigerian (SOAN), Engr. Greg Ogbeifun, attributed the idleness of the N50 billion facility to lack of due diligence by NIMASA.
He said, "It would have been a big help if the floating dock was put to work but the whole thing is just shrouded in secrecy. I do not think that enough due diligence was done before that dock was procured.
"It is not just enough to acquire a floating dock; that is just a fraction of the requirement. Operating a dock and getting it to function is even more critical than owning one, and I think that is where NIMASA is right now.
"As it stands now, nobody is talking about ´where do we take this dock to, where do we operate it from, who is going to operate it and which market are they targeting?'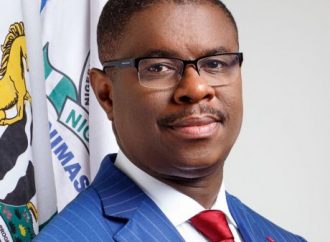 "Will the shipowners be safe to operate their vessels from where the floating dock will be located considering the security situation in the country at the moment Who is going to be the main workforce? Is NIMASA into partnership with any experienced local or international entity that will operate and run the dock?
"Except these questions are addressed, no sensible shipowner will risk taking their vessel for dry docking on the facility."
Ogbeifun, who lamented the huge investment NIMASA had committed in acquiring the floating dock, expressed fear that the facility may turned out to be "another white elephant project" if not immediately put to use as shipowners will continue to patronise ship repair and dry dock facilities outside the country.
A source at NIMASA, who also spoke with SHIPS & PORTS on condition of anonymity, as he was not authorised to speak on the issue, said the agency is at a loss as to what to do with the floating dock after spending N50 billion in acquiring it and more than N1 billion in daily maintenance cost since June 2018.
According to him, acquiring the floating dock and not putting it to use is a disservice to an industry that is struggling under heavy financial burden.
He said, "It is sad that we are still where we are at this time. NIMASA has invested a lot in that facility. The management did not think through what they wanted to do with it and it is incurring money and it is going to be deteriorating at the facility where it is kept.
"The government should not be in the business of owning a floating dock. With the way things are going, it might even rust and go down eventually if not put into use immediately.
"If they have put that facility in place at affordable price, it will help the ship owners. The earlier they do something with it and put it into use, the better."
The Director-General of NIMASA, Dakuku Peterside and the agency's spokesman, Isichei Osamgbi did not respond to enquiries sent to them on the matter.
Copyright 2018 Ships & Ports Ltd. Permission to use quotations from this article is granted subject to appropriate credit given to www.shipsandports.com.ng as the source.