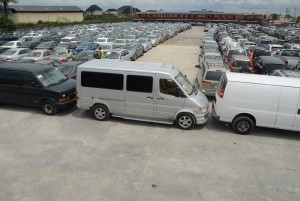 Seized vehicles with duty paid value worth over N6bn are wasting away in various Customs warehouses and premises across the country, following the suspension of auction by the Nigeria Customs Service since August 2015.
The vehicles numbering over 2,000 units, most of which were seized by the NCS as part of its anti-smuggling drive, had started depreciating in value, it was gathered.
Some of the vehicles were impounded along some inter-state highways when their owners could not produce proofs of import duty payment.
According to the NCS' reports, some of the vehicles comprising cars, buses, trucks and tankers were intercepted during attempts to smuggle them into Nigeria. Others were reportedly seized for being the mode of conveyance for smuggled items.
The Comptroller General of Customs, Hameed Ali, suspended auction of seized goods, shortly after taking charge at the service in August 2015.
President Muhammadu Buhari had recently approved the distribution of seized rice to Internally Displaced Persons camps to address the food crises facing them.
The move by government was said to be aimed at preventing the rice from expiring or getting infested with weevils and other pests.
Spokesman for the NCS, Joseph Attah, was quoted as saying that the vehicle auctions were suspended by Ali to fine-tune the process for transparency.
He said, "The CG suspended it to give room for transparency so that the new system will be without bias or favouritism. The new system is planned in such a way that people will be able to apply for auction online and the highest bidder gets it.
"The delay in auction is temporary and will be addressed soon."
The seized vehicles, many of which have reportedly gone through a process of court condemnation and awaiting auction, are said to be at the border stations and various arms of the Federal Operation Units in Lagos, Owerri, Benin, Bauchi, Kaduna and Kano.
Copyright Ships & Ports Ltd. Permission to use quotations from this article is granted subject to appropriate credit given to www.shipsandports.com.ng as the source.