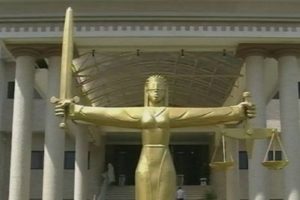 A Federal High Court in Ibadan has refused the bail applications filed by the seven accused persons standing trial over alleged N8 billion currency scam.
The accused are; Kolawole Babalola, Muniru Olaniran, Kayode Togun, Isiaq Akano, Festus Adeyemi, Akeem Oyebanji and Ayodele Alese.
Justice Joyce Abdulmaleek in a ruling on Thursday turned down the applications believing that the accused might jump bail and refuse to show up for trial.
"I have previously refused similar bail application and I know that the only option left for the applicants is to appeal the decision of the court.
"The accused persons have also failed to convince this court that their ailment was contagious even though they said that the medical facilities in the prison were not adequate to cater for their deteriorating health.
"In exercising my discretionary power, I see the possibility of the accused persons jumping bail if granted bail.
"Therefore, the application for bail is refused and dismissed accordingly," she ruled.
After the ruling, the judge adjourned the case till Nov. 21, for continuation of trial.
Earlier, R. O. Sadiq, counsel to all the applicants had tendered a bail application, citing deplorable health conditions of his clients as reason for the bail application.
Sadiq had asked the court to consider various portions of the constitution as well as the Administration of Criminal Justice Act (ACJA) in her decision.
Counsel to the Economic and Financial Crimes Commission (EFCC), Adebisi Adeniyi, however, opposed the bail application, saying the accused persons might jump bail.
Adeniyi also reminded the court that it had rejected all previous bail applications tendered by the accused.