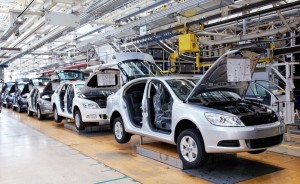 National Automotive Design and Development Council (NADDC) had declared a renewed commitment to strengthen the implementation of the Nigerian Automotive Industry Development Plan (NAIDP) in order to make serve the best interest of all Nigerians.
In addition, the Council said it would team up with relevant stakeholders towards ensuring early enactment of the auto policy into law by the National Assembly.
NADDC Director General,  Jelani Aliyu, MFR, made these declarations in Abuja yesterday while receiving the national executive of the Nigerian Automobile Manufacturers Association (NAMA) led by its Chairman, Tokunbo Aromolaran (MD VON) and Vice Chairman, Alhaji Ibrahim Dutsinma Boyi (MD PAN) who came on a courtesy visit.
Aliyu emphasized that the Council was also committed to putting in place an affordable vehicle financing scheme which would enhance the capacity of Nigerians across the country to buy new made in Nigeria vehicles instead of patronizing second hand vehicles.
He looked forward to working very closely with NAMA members and other stakeholders in the auto industry with a view to making Nigeria a major vehicle manufacturing hub; not just to meet national demand but also for exports.
Speaking earlier, NAMA Chairman,  Tokunbo Aromolaran described the recent appointment of  Jelani Aliyu as fixing a round peg in a round hole and expressed the determination of the stakeholders to team up with him in moving the auto industry in Nigeria to an enviable height.
He said that the auto policy introduced about three years ago had succeeded in springing back to life active assembly operations and new investments in the auto industry.
Aromolaran requested to create a period of protection to enable the young industries grow to a stage where they could compete; and to also shield the auto industry from the menace of unrestricted dumping of second hand vehicles in the country.
In his remarks, Ibrahim Boyi said, "Active government policy is what can make the auto industry succeed. The auto policy needs to be strengthened and there is need to bring more impetus into the enforcement of the implementation timelines of the policy. We know that it is not an easy challenge but we have confidence in you to apply necessary drivers of success."