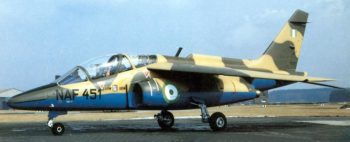 In a drive to ensure it produces the essential equipment needed for the prosecution of the war on terrorism locally, the Nigerian Air Force (NAF) says it will soon begin the production of Liquid Oxygen for use by combat aircraft.The NAF Chief of Training and Operation (CTOP) Air Vice Marshal (AVM), Abubakar Iya spoke during an operational visit to the 103 Strike Group Yola.
He said the Oxygen Plant is in the final stages and would produce various gases that will also be used by hospitals.
Iya said: "This is an operational visit as directed by the Chief of Air Staff (CAS) to the front line in the northeast, we inspected the oxygen plant, it is going to produce the necessary gases for flying and medical facility, it is an all-purpose plant but mainly it will produce liquid oxygen for our combat aircraft and as you can see the plant is almost ready. It can also produce other gases like nitrogen and gaseous oxygen which our hospitals could use, as soon as the plant is ready; it is going to service the entire air force."
The CTOP also said the plant is being run and managed by local Air Force personnel in the drive to build the capacity of the local engineers. "It is part of our capacity building, the installation process is handled by our own personnel, the production is going to be handled by our own personnel, the company that manufactured the equipment is only coming to inspect to ensure everything is in place according to specification," Iya said.