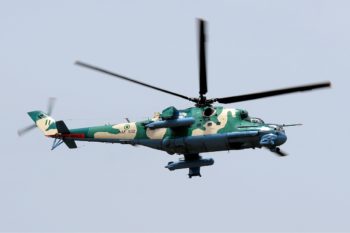 The Nigerian Air Force (NAF) has said that it would commission two new Mi 35 attack helicopters at its 54th anniversary holding in Kaduna on May 4 – 5, 2018.
The Chairman of the Organising Committee, Air Vice Marshal Charles Ohwo, made the disclosure on Monday, at a press briefing.
Ohwo stated that as part of the celebrations, the Nigerian Airforce would attend to over 500 patients in Kaduna through its outreach programme.
He called on the people of Kaduna State not to panic due to the movement of air platforms that would be taking part in the event and advised them to go about their normal activities.
Ohwo, who noted that the this year's NAF Day would take place at Nigerian Air Force Base, Kaduna, said the event is meant to consolidate on the gains on the employment of air power especially at this critical stage in our nation's history.
He said: "It is for this reason that the theme, "Enhancing Nigerian Air Force Operational Capability for Timely Employment of Air Power in Response to Contemporary Security Challenges" was adopted as the theme for this year's NAF Day Celebration.
He said that activities lined up for the event include historical photo gallery statics of the Nigerian Airforce, a display of its Research and Development monuments and the introduction of the Engineering Wing of the Nigerian Air Force.
Ohwo added that the Nigerian Airforce would use the opportunity to renew some of its Memorandum of Understanding with some of their research and development partners, while hosting a gala night, ceremonial parade and aerial display.
He said, "During the occasion, some attack helicopters would also be commissioned while erstwhile colours of Training Command would be retired.
"The new colours would be presented to the newly established Air Training Command and Ground Training Command by the President and Commander-in-Chief of the Armed Forces, President Muhammadu Buhari.